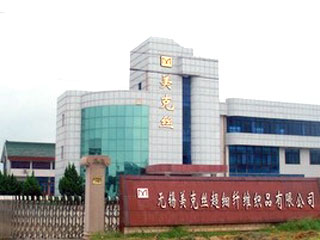 Wuxi Mei Ke Si Microfiber Fabric Co., Ltd.
Wuxi Mei Ke Si Microfiber Fabric Co., Ltd. is located in Wuxi as a manufacturer and exporter of microfiber cleaning cloth such as microfiber suede, fancy glasses cloth, lens cloth and knit optical cloth. We also export bath products such as bath towels, mobile pouches, fancy bags and eyeglass bags. Our products are made of ultra microfiber which is harmless to human. Cooperating with domestic high-tech textile enterprises, we rank top in the industry with advanced production lines of interweaving, dyeing, design finalizing and post-treatment. We always make great efforts to guarantee product quality and meet customers' demands.
Our Products
Our leading products include super slender fiber-cleaning cloth (knitting cloth, double sided plush and double side pile fabric) inter wear made by German 40 pins knitting round machines and glasses soft pouch series. We can guarantee high quality and the best service. Your customized colors, sizes and labels are welcome.
Contact Us
We welcome your visit to our factory. For more details, send us an e-mail today. ...