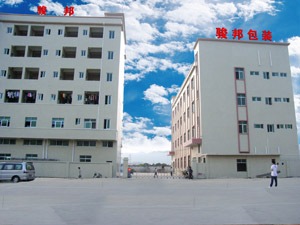 Jun Bang Packaging Printing Co., Ltd. is located in Humen, Dongguan City, adjacents to Guangzhou, Shenzhen, Zhuhai, Hong Kong and Macao. Our company is a 5 years professional bag manufacturer and exporter, has international advanced production equipments, perfect management systems and professional technical experience.
Our mission is to meet the unique bag package demands of our customers. We have established perfect quality control systems and customer service systems, and also provide a full set of service, from product design to finished products, including raw materials import, produce, processing, quality certification and logistic service. Many international top domestic and foreign brands choose Jun Bang as their long-term partner in order to satify their design and quality control demands. With rich professional experience, advanced technology and credit-focused service, we have won the trust from customers and thus established a good reputation.
Our main business scope: package for clothing business, postal express service, hardware, electronics, electrical appliances, plastic, toys, shoes, hats, socks, mobile communications, clocks and watches, jewelry, ornaments, crafts and gifts, tissues, paper products, stationery, tobacco, wine and food, etc.
Our materials of products: composite materials, non-woven eco-friendly material and OPP, PP, HDPE, LDPE, CPP, PPU, PVC, PPE, PE/PO, PO/PE, CPE and EVA.
Postal Express Industry: There are outside-white and inside-black or grey express delivery bags, anti-faking label document bags, serial bar codes courier bags, and three-side-sealed express bags. You can choose the monolayer or multilayer coextrusion materials characterized by moisture resistance, static resistance, shock resistance, load endurance and strong protection feature. Besides, the use of destructive permanent adhesive strip can ensure the security and confidentiality of products during the delivery, a clear pocket for packing waybill can be made on the bag. The couier bag with nice craftsmanship and finely printing with multiple colors.
Clothing Industry: Our non-woven eco-friendly bags use the most advanced hot heat press full-automatic production lines (able to make lacework sealing, lacework opening and handle loops). Star portrait soft loop handle bags, die cut handle bags, packing bags, vest bags and clothes hanging bags can be customized made for you. These bags have new patterns and designs, 1-12 color copperplate finely printing on the bag.
Other Industries: Biodegradable bags, non-woven eco-friendly bags, header bags, handbags, soft loop bags, outside-white and inside-black bags, outside-grey and inside-black express bags (able to serve with pocket for packing waybill and be printed with codes), square-bottomed handle bags, vest bags, plastic handle bags, PVC plastic tube bags, hanging hook bags, zipper bags, documentary bags, piping bags, box-adhering bags, drawstring bags, eyelet-through cord bags, gift bags, anti-static bags, isothermal bags, vacuum bags, high-class diaper napkin bags, sanitary napkin bags, PVC product bags, composite bags, pillow packing bag. The printing effect is very nice by copperplate printing.
External Processing: Outsized, specialised, multicolor copperplate printing; multilayer coextrusion special composite materials, black and white film, and coextrusion film ( HDPE outside and LDPE inside); irregular-shaped and special materials, film laminated processing; multicolor copperplate printing for airtight bags, zipper bags; fully automatic soft loop handle and hard loop handle processing.
Sincerely welcome you to contact us for further information about our company and bag products. We will try our best to make the best ideal bag for you. Sincerely hope we can become long term win-win good business partner.
Many thanks. ...