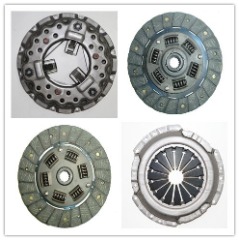 Suzhou Fangtian Industries Co., Ltd. is one of the largest professional manufacturers and exporters of clutch and brake parts, such as clutch facings, clutch discs, clutch covers, brake linings, brake pads, brake shoes and brake lining rolls. Employing over 1,000 people, our annual turnover exceeds USD25 million.
We have two testing centers which control the quality of our products with advanced testing equipment. In 1995, we introduced in technical know-how and production and test equipment for non-asbestos clutch facings from the USA. We send our samples to Galin lab in the USA for testing every year. In 2006, we started to apply for the ECE R90 certificate for our brake pads. Our friction parts are manufactured according to relevant standards in Europe, America and Japan.
In 2001, we set up our own import and export company. We export our products to both the aftermarket and OEM market. The principle of our company and partners worldwide is to provide high quality products, competitive prices, fast delivery, flexible terms, and prompt responses. We have enjoyed a solid reputation among our customers in Canada, America, Spain, Poland, Greece, Turkey, Vietnam, Iran, the United Arab Emirates, Egypt, Costa Rica, Singapore, Pakistan, and Syria.
Please do not hesitate to contact us for further details. We look forward to working with you in the near future. ...