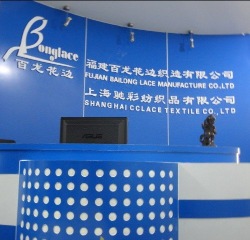 Established in 2003, Fuqing Bailong Lace Manufacture Co., Ltd. specializes in providing you with top-grade elastic lace for underwear, garment fabrics and cloth, including stretch lace, fabric lace, embroidered lace, chemical lace, cotton lace and netting cloth lace.
A simple piece of lace is transformed to be outstanding with classic and modern taste due to our mature craftsmanship. Up till now, our experienced designers have created more than 800 models for you to choose. Meanwhile, 15 new items are also available each month suitable for times. Or, you can give ten days to us and we can offer you a satisfactory custom sample within the lead time.
Purchasing advanced and effective equipment from Karl Mayer, our 200 dedicated staff members can output 30 tons of laces, enabling us to accommodate your volume orders. Clients in the US, Europe, Asia and the Middle East trust us and place repeated orders from us. We are so flexible that MOQ and delivery time can be decided upon negotiation between us.
Though tiny things, we make them classical. Contact us today for more information about our laces and cooperation. ...