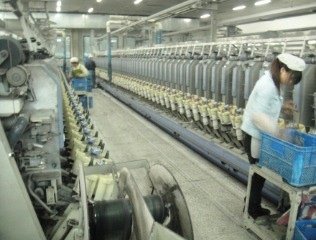 Zhangjiagang Hengfeng Textile Co., Ltd. was founded in 2001. We are located in Zhangjiagang City, Jiangsu, China. It is a port city in south bank of Yangze River next to Shanghai City. We are close to an international port - Zhangjiagang Port, which has the only river type free trade zone in china.
Our factory has two production lines. One is to produce semi-worsted yarn and thread with cotton, viscose, wool, nylon, tencel, model, cashmere, polyester, silk and so on. This production line produces sweaters, fabrics, underwear, gloves, carpets, etc. The production capacity is around 20,000 tons every year. The other production line is to produce flame retardant yarn and fabrics with modacrylic, flame retardant viscose, aramid and conductive fiber. This production line produces aviation blankets, overalls of chemical factories, fire suites, force clothing, petroleum processing plants and so on.
We have production equipment of compact spinning machines, siro-spun machines, twised machines and cored machines. They can meet different uses and requirements of the clients.
Welcome to visit us for mutually beneficial cooperation.
...