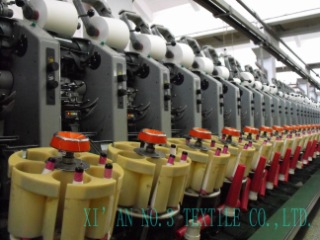 Xi'an No. 3 Textile Co., Ltd. (grew out of Shaanxi TangHua No.3 Textile Co., Ltd. and the new name is Xi'an Textile Group) was founded in 1953. We have 77,694 ring spindles, 18,240 ply spindles, 504 open-end spinning products, 1 BENNINGER Beaming Machine, 3 sets of SAUKER Sizing Machines, 13 sets of Murata Mach Connors, 1638 sets of looms, 290 sets of Tsudakoma ZA205i-280 products, 40 sets of Somet-SM-190 products, 20 sets of Somet-SM-380 products, 31 sets of Pignon/SMITT-TP500 products and others. We produce 10,000 tons of yarn and 50 million meters of grey fabric annually.
60% of our products have been sold to Japan, South Korea, Hong Kong, Europe, etc.Our mission is not only has the rights to export and import cotton yarn, cotton grey fabric, T/C yarn, T/C grey fabric, but also obtains the rights to export yarn, threads, grey fabric, printing and dyeing fabric, textile for bedding, textile for kitchen use, garments, decoration textile, etc.
Our motto is "supplying our customers with the first-class products, quality service, and sincere cooperation". We are looking forward to cooperating with various commercial companies form domestic and overseas markets in different ways. We hope to establish faithful business relationships with clients to develop the international markets for common benefits.
For more information about our company and our products, please contact us. We are looking forward to building up a long-term business relationship based on mutual trust with all clients. ...