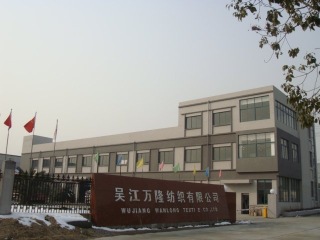 Wujiang Wanlong Textile Co., Ltd. was founded in 2002. We own over 500 sets of water jet jacquard looms and warping and sizing machines, and 350 employees. Daily output is 120,000 meters. In 2011 our export revenue was 40 million US dollars.
We locate in the 'Silk Capital' of Sheng ze town, Jiang su province, only one hour to Shanghai International Airport.
Highly advance machineries and technologies developed by manufacturers of global repute, expert engineers and management teamwork guarantee our unwavering commitment that to meet customer's demand and satisfy customer.
Our products chains cover yarn, fabric manufacturing, trading and logistics & distribution. Main products are: suede, corduroy, imitation linen, microfiber, imitation silk apparel fabric, width from 150cm to 280cm. Our fabrics are used in upholstery decorative cloth like sofa, cushion, curtain, home textiles like quilt, bed sheet, and garments.
We dedicate to providing excellent and innovative products and service and creating value for our customers globally, and enjoy a worldwide reputation. 80% of our fabrics are exported to over 50 countries in USA, Europe, South America. We serve our valued clients such as GTA, Eurotex, Sahinler, SIC, FOCUS. Our booths are available at Canton Fair, Inter textile Home Textiles shanghai and Guangzhou,Heim textil Frankfurt. ...