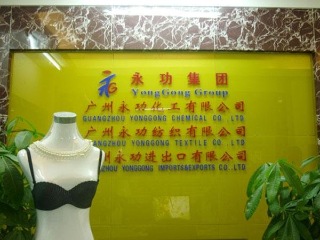 Guangzhou Yonggong Group is combined of three companies, Guangzhou Yonggong Textiles Company, Guangzhou Yonggong Chemical Company, and Guangzhou Yonggong Importer and Export Company.
We created a series of featured products, including chemical fiber fabrics, knitting fabrics, swimsuit fabrics, underwear fabrics and high elastic fabrics. We are one of the leading manufacturers and exporters of chemical fiber fabrics in China. Our products have remarkable advantages of water proof, flame resistance, antistatic capability and UV-CUT. Products are used in garments.
We are the fabric supplier of ULU Swimming, Change Bra, Aimer Bra and some other famous company. After 10 years fabric experience, now we have our bra brand " Be-mate".Our products have great popularity in Europe (Germany, France and Denmark), North America (the USA and Canada), South America, Southeast Asia and other countries and regions.
You are welcome to visit our website www.knit-fabric.com You will find the one you like here! Your choice is here. ...