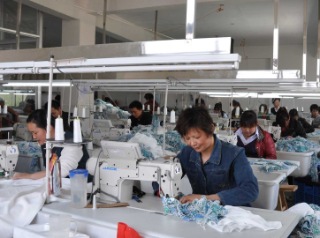 SRX Group is a Comprehensive Enterprise,specializing in fabric weaving, dyeing, printing, finishing and garment sewing. We now have Two Subsidiary Factories in JiangSu Province and our Head Office which is authorized with import and export right --- Shanghai D&N International Trading Co.,Ltd. Armed with the most modern equipment, and a strong team of first-rate engineers and staff members with professional capabilities, our products are of the best quality and welcomed by customers all over the world and enjoy high prestige in the international market.
Our products have been sold to United States,Canada, Mexico,Germany, Poland, Spain, Russia, Korea, Japan and Southeast-Asian countries etc. And the current CUSTOMER we have: ZARA, JCP, NEW & YORK, A&F, ST-JOHNS, GERRY WEBER, SPRING FIELD, C&A, E-Land etc.
Fabric Department:
Established in 2004, our weaving factory located in SuZhou City, JiangSu Province owns 250 sets of advanced Japan-made water jet and air jet looms and supporting sizing equipment at present, professionally engaged in the production of Polyester, Nylon and Cotton Woven fabrics of high quality, hi-tech, multi-function in wide range serving for mid and high end market. Our annual output is 20 million running meters. Through continuous and extensive market research and following the worldwide fashion trend, we always keep researching and developing on the new materials and new technology to improve the permeability and breathability, endowed our fabric with outstanding performance and properties. With the continuous promotion of our product, we have won more and more market. We build a strong team of high quality technicians dedicated to developing new products to better satisfy our customers.
Fabric products: Microfiber Pongee, Nylon Taffeta, Ripstop, N/P, Taslon, Oxford, Shape Memory, Nylon/Cotton, Cotton Metallic, Moleskin, Suede, Softshell, Gabardine, Satin, Chiffon, Georgette, Jacquard, and all functional synthetic products.
Main finish: Dyeing, Printing, Hot Cire, Waterproof, Downproof, PU/PA/PVC coating, Wax Coating, Anti-static, Anti-UV, Teflon, Breathability, Moisture Permeability, TPU/PFTE/PVA Lamination in 2 layer, 2.5 layer and 3 layer, and any others according to customers requiremnts.
Garment Department:
Launched by end of 2009, our garment factory named TaiZhou SRX Garment Factory is located in TaiZhou City, JiangSu Province. We have 3 senior designers, 3 senior pattern makers, R&D team of more than 20 people, more than 200 sewing workers, equipped with advanced CAD pattern making system, auto-cutting machines, 140 sets of computerized sewing machines. Our monthly production capacity is 30,000pcs. More recently, we are now expanding our factory covers an area of 15,000 sqm. As we have direct fabric supply channel, with our good quality, expertise knowledge, and effective communication, we can offer one-stop service ranging from fabric production and material sourcing till garment sewing with competitive price.
Through our cooperating with lots of famous local and international famous garment brands, absorbing popular elements and ideas of fashion designs from different areas, we have been striving for design and development by innovation, cultivating the market sensitiveness and perspectiveness from fashion world, and therefore boosting our capability of R&D.
Main product: Casual wear, Sportswear, Trench Coat, Jacket, Fashion clothing, and Down Jacket etc for Men, Ladies and Children.
We believe integrity, credibility, and originality. We will forge ahead with determination as always, pursue excellence, and serve customers heart and soul!
We have been going all out to forge a first-class textile supply chain which is our unremitting pursue! ...