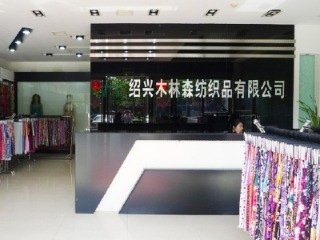 Founded in 1999, Shaoxing Mulinsen Imp & Exp Co., Ltd is now ranked the 2nd largest Imp & Exp Enterprise in Keqiao, Shaoxing --- the largest textile collecting and distributing center in Asia. We are committed to continuous improvement in quality, cost control and customer service. We strive to be on the leading edge of product development and innovation in new technologies.
Integrated Factory And Advanced Equipment
Began as a small family-owned salesroom, Shaoxing Mulinsen Imp & Exp Co., Ltd. has developed to be a textile enterprise for the integration of trading, knitting, printing and dyeing. The factory has a scope of 80 circular knitting with all brand new equipments from Switzerland, 3 printing lines and 3 dyeing lines. Our monthly capability has reached 10,000,000 meters of finished fabrics. The advanced equipments and improved technologies have enabled us to provide competitive price and quality products. We maintain our own research and development facilities as well as an operating textile QC team. Meticulous inspection standards and strict in-process controls at every manufacturing phase ensure product quality. Our export has topped 50,000,000 dollars in 2012. 95% of our revenue comes from oversea market such as South Africa, South America, Middle East, Southeast Asia and etc.
Research & Development
Our highly specialized R&D team constantly develops new materials and technologies. We specialize in a variety of fabrics as bellow:
Knitting Fabric: Poly FDY, Poly DTY, Poly Spun, T/R, Viscose, Angora, Velvet, Jacquare poly fabric
Woven Fabric: Cotton: Poplin, Sateen, Voile, Twill, Canvas; Rayon: Plain, twill; Polyester: Wool peach, Satin, Chiffon, Chiffon Yoryu, Pebble Georgette, koshibo, T/C
Design Capabilities
Shaoxing Mulinsen Imp & Exp Co., Ltd offer you complete in-house design capabilities. There are tens of thousands of most fashionable designs availble and customized designs are welcome. With a technical Textile Design Team to work with you, we take pride in our relationships.
Professional Service
We direct our customers in a way to fit their requirements in the market based on our experiences and knowledge. Most of the long term relationships established till today turned out to be a great success for those companies. Begin to benefit from our experience from now on. We believe in our business, we believe in our employees and we believe in our customers.
Our Advantages
Being a privately held company gives us the ability to move and adjust quickly to changing market conditions. This enables us to innovate and continually bring new products to the market for our customers. We offer our customers not just products, but fresh ideas, innovative solutions and outstanding technical service for improved processes and product performance.
We never find what we have done enough, we never stop improving ourselves. Welcome to visit and start a win-win business with us. ...