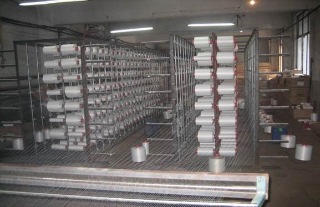 Hebei Huafang Printing and Dyeing Co., Ltd.Is a textile manufactory with Yuan Tong Huafang Textile(Beijing)Co.,Ltd belongs to Huafang Group.
The factory was established in 1997 and specialized in producing POLYESTER COTTON BLENDED FABRICS, 100% COTTON FABRIC and 100% POLYESTER FABRIC (Grey Fabric, White and Dyed Fabric). The annual production capacity is 96 million Yards.
The factory have more than 200 staff and equipped with 2 production lines, including 1 Continuous Dyeing Plant, 4 Auto-Packing Machines, 12 Auto-Dyeing Jiggers, 2 Thermo-fixing Machines and 2 mercerizing machines. Moreover, 60 Water-Jet Looms and 200 Air-jet Looms which can provide 1,800,000m Grey Fabric every month.
Our LAB has been equipped with the most advanced spectrophotometer for color matching system, sample dyeing machines and also qualified professional engineers in order to achieve the ideal quality of products. We have already received the ISO9001 & ISO14000 QUALITY SYSTEM CERTIFICATE and "AUDITED SUPPLIER CERTIFICATE" issued by SGS.
In addition, our company has "IMPORT and EXPORT RIGHTS" authorized by Ministry of Foreign Trade and Economic Cooperation Bureau. Most of our products have been exported to Europe, Africa, South America, Southeast Asia, Saudi Arabia, and the Middle East, i.e. Kenya, Nigiria, Peru, Panama, Sri Lanka, Mexico, Malaysia, Korea, Pakistan, etc.
Our products with brand "LITCHI" & "ICE BALL" have been exported to more than 60 countries, and we've become the partner of many famous brands, like: NEW LOOK, GAP, TARGET, H&M, LEVI'S, WAL-MART, TESCO, VANCL, PRIMARK AND MARKS &SPENCER. ...