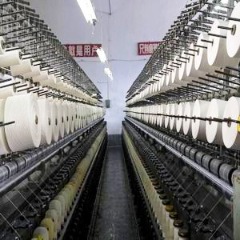 Jinan Golden Bull Canvas Textiles Co., Ltd ( Jinan Golden Bull Canvas Factory) is a private enterprise refromed from Jinan No.6 cotton textile factory (once was a stated-owned enterprise). We have our own textile factory located in the south part of Dalu Industry Garden, Tianqiao District, Jinan, China . And our brand "Golden Bull" (pronounced "Jinniu" for Chinese phonetic transcription) is well-known in China.
Jinan Golden Bull Canvas Textile are textile manufacturer/exporter. Our main products are canvas products such as greige canvas (use for luggage cloth, canvas for shoes, decorating canvas, painting canvas), rubber cloth, tarpaulin, military camouflage canvas, filter canvas, construction tents, PVC Coated three-anti canvas (waterproof, anti-mildew, flame retardance). We produce canvas specification as follows: NE 21s/2x2~21s/18x12; NE 10s/2x2~10s/9x6; width: 30"~68"; cloth weight 200g/m2~950g/m2. we also supply good quality construction tents, military tents, outdoor tents made of 100% cotton canvas. Size: 5x12meter, 5x10meter, 5x8meter, 5x6meter, 5x5meter, 4x6meter or as per your requirement. Color: cotton white, military green or as per your requirement.
Jinnan Golden Bull Canvas Textile has its main customers around China, Cuba, Korea, Japan, Brazil, Saudi, Lebanon, Belgium, Nigeria and South Africa and many other countries and areas. The aims of our enterprise are "HONEST", "CUSTERMERS FIRST", "HARMONY AND DOUBLE WIN", and "JOINT DEVELOPMENT". We have a high-calibre team expertise in textile processing and experienced in marketing.
In a further globalized world economy today, Golden Bull Canvas Textile will continue to do the best it can to offer high quality products and services to its customers. And it is looking forward to opportunities for business cooperation with you. ...