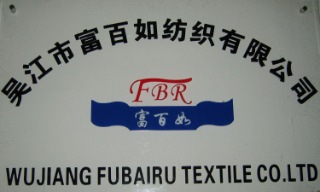 Wujiang Fubairu Textile Co. Ltd. is located in Shengze, a beautiful city in Jiangsu Province known as the cradle of Chinese silk, which is only one hour drive from Shanghai.
The company was established in 2008 as a privatelyl owned textile corporation, it specializes in textile research, development and production. Its products sell well in Denmark, Norway, Holland, and some countries form South Asia and America. With such advanced machinery as whole pulping equipment co-produced by Japan and Korea, 230 cm air-jet looms of Japanese Toyota, Yinchun hydraulic looms of Qingdao China, and loom dobbies, the company's annual capacity has reached 12 millions of grey fabric. Its main products range from fancy fabrics such as metallic fabric, memory cloth, cotton, polycotton, nyloncotton, polynyloncotton and cotton jacquard, etc., leisure producets such as peach skin fabric, suede and talson, to commonly used products such as polyester and nylon.
The company also deals in garments such as padded jackets, down jackets, sportswears, outwears, raincoats, and all kinds of pants. The advantage that the company is also a fabric supplier greatly guarantees the fabric quality, shortens the production period and also reduces the cost. With 6 quality controllers, 5 merchandisers, and more than 10 garment production factories as its partners, now its yearly capacity has reached more than 500,000 pieces of jackets. ...