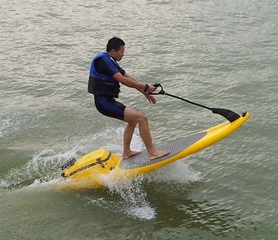 Hison will attend the 113th Canton Fair from 15 to 19 in April of 2013,at the Brand Zone of 13.1 Hall.Booth Number is: 13.1 A15-16 & B07-08. Welcome to visit us,BIG PROMOTION is coming!
Founded in 2002, our company is the leading manufacturer of marine recreation jet products in China. Our company offers jet products with the world's highest performance-price ratio. Every Hison jet product is designed and built to be long lasting, so you can be sure that there will be plenty of great days ahead.
Our main products also include jet boats. Our jet boats are unique because we adopt Hison Direct Drive Jet Propulsion System without exposed prop, which means faster planning, less maintenance and higher safety factor. Therefore, you can have greater peace of mind. This innovative technology is available in all of the Hison jet products, including 2012 jet surf boards (Powerski).
Powerski is novel and convenient to carry, powerful and high-speed, and the price is also very attractive. We believe that Powerski, the mini type of motorized Surf board, will be the best complementarity for Hison watercrafts and jet boats.
Our mission is to produce durable and economical marine recreation products, and let all the people have the chance to enjoy their marine recreation life. ...