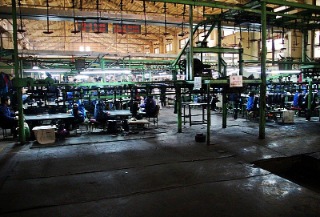 Hebi Feihe Share Co., Ltd ( the former Hebi City Rubber Plant) which located in the Hebi City, Henan Province, the historic centre of China, is the largest company specialized in the production of mining rubber boots. The company headquarters covers an area of 86,000 square meters, construction area of 41,000 square meters, and there are more than 1,200 employees. The company has four rubber boots production line and the annual production of "Feihe" brand series of mining, civil rubber boots is more than 6 million pairs. The company is proud of its powerful technology, excellent equipments, advanced techniques, complete examining methods, high-quality products and sound commercial credit.
The company has various types of products and its main products include: the general protective appliance: industrial rubber boots, reflective remedy industrial rubber boots, civil light rubber boots, Jiefang coth rubber shoes, reflective proctective work clothes; the special protective appliance: 6KV insulated reflective rubber boots, refelctive 5KV electric insulation cloth rubber shoes, fire retardant rubber boots, antisquashy rubber safety boots, acid and alkali resistant boots, puncture proof rubber boots, antistatic rubber boots, ABS Mine Safety Helmet, safety protective gloves and safety protective masks etc. The company also produces: disposable medical syringe rubber piston, other rubber products, interlock fabric, reflective materials, fashional rubber boots etc. Meanwhile, the dominant product of reflective remedy mining rubber boots are sold well in domestic market and have been exported to America, Sweden, Finland, Egypt and Viet Nam etc, which are very favored by the customers.
"Feihe" mining rubber boots have been awarded the high-quality product by Henan Province and the former Ministry of Chemical Industry. The remedy mining rubber boots passed the technological certification for new products by the former Ministry of Chemical Industry in 1990 and the reflective remedy mining rubber boots obtained state new-type practical patent in December 1998. This company has been ranked as leakage-free plant by the Chemical Industry Department of Henan Province, provincial civilized plant, Class-A advanced enterprise, state secondary metering unit, famous enterprise in Henan Province and AAA creditable enterprise by the Henan Branch of Industrial and Commerial Bank of China. In 2001, this company passed the ISO 9001:2000 international system certification. In 2005, "Feihe" mining rubber boots won the honor of brand-name products of Henan Province and "Feihe" brand was granted the title of famous brand of Henan Province. In 2007, "Feihe" reflective remedy mining rubber boots was recognized as the Chinese famous brand for production of rubber boots and shoes by Market Monitoring Center of China. In 2010, the company won the first Hebi Mayor Quality Award, and in 2011, the company passed the ISO 9001:2008 certification.
Guided by the permanent tenet and striving aim of being practical and innovative and holding the customer first. Mr. Jia Shenju, the Chairman of the company, and Mr. Jia Zhizhong, the General Manager, earnestly welcome the business cooperation in various fields to foster a bright future for all of us. ...