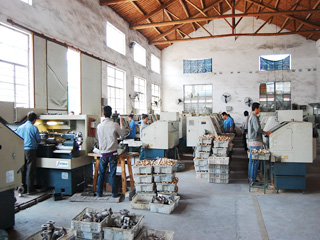 Yuhuan Guangbo Hardware Products Co., Ltd. is one of the experienced hardware manufacturers in China located in Chen'ao Industrial Zone, Longxi Yuhuan County, Zhejiang Province with sweet weather, beautiful scenery. Our company near Huangyan Airport and Wenzhou Airport and is 15 sea miles from Wenzhou City and close to 104 State Line. It's easily accessible by water, land or air.
As one of the leader of hardware, we specialize in ball valves, stop valves, angle valves, gate valves, check valves and other products, such as fittings, gardening fittings, sanitary wares and relative components. Our products have logical design, high performance and quality and our qualified service have gained a great reputation from our customers. Following the strategy and program of continual development, our company will expand depending on exiting products and developing new products.
Guangbo people welcome your coming and visit. We hope we can establish a long-term cooperation with you, and we will head for 21st century by firm steps together. ...