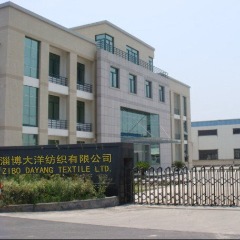 Established in 1990, Zibo Dayang Textile Co., Ltd. is specialized in producing flame-retardant textiles. The leading products are as follows: FR fibre, FR yarn, FR piece-dyed fabrics, FR yarn-dyed fabrics, FR Jacquard fabrics, FR printing fabrics, FR knitted fabrics, FR non-woven fabrics, FR mattress protectors, FR bed linen, cushions, curtains, sofa covers, tablecloths and shower curtains. With more than 15 years' efforts, our company has made progress; meanwhile, confronting with the competition of market, we always stick to the management guideline of "human-oriented, scientific management and excellent quality". Up to now, Dayang has experienced great development. We are equipped with more than 100 sets of air-jet looms and rapier looms and have 16 technicians and 3 senior engineers with more than 15 years' experience in the R&D of fire-retardant textiles.
Our materials are 100% flame retardant polyester, FR cotton and FR modacrylic. Our goods passed FR M1, BS5852, BS5867, BS7175, abrasion and pilling testing. Additionally, we also make multi-functional 3-in-1 fabrics (FR / Water-proof / Anti-bacteria). Our goods are used in hotels, hospitals, theatres, homes, air planes and trains and sold in the USA, the UK, France and Denmark.
We have enough ability to develop and produce large-scale and various textiles. You will enjoy quality products, competitive prices, quick delivery and excellent services offered by Dayang. We sincerely welcome your visits. ...