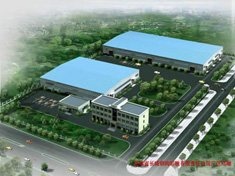 Jilin Changcheng Steel Structure Co., Ltd. is located in Lvyuan Economic developing district. Our company takes an area of 38 thousand square meters. The construction area is 200 thousand square meters. The total investment reaches RMB40 million. We possess 3 assembly lines of composite board, 20 assembly lines of single board, 5 assembly lines of C pattern steel, and 3 assembly lines of steel structure. We also have the capacity that produces 2 million meters of composite boards, 5 million meters of single boards, 10 thousand tons of C pattern steel, 10 thousand tons of steel structures and 300 thousand square meters construction per year. Our company has 180 staff members including professional technological personnel, and a group of management people who have professional knowledge and real experiences.
Jilin Changcheng Steel Structure Co., Ltd., which was founded in May 2000, is the earliest colorful steel board processing enterprise. We participated in building Wuhuan Gymnasium, Changchun Railway Station North Station, Jisheng Great Nation, Newland Shopping Mall, FAW-Volkswagen, Faw-Hongqi and so on. We have completed 500 thousand square meters standardized workshop building. With many years of development, our company has become the composite enterprise that is specialized in steel structure and colorful steel board design, manufacture, and installation. We are top on annual comprehensive capacity and annual production value in province. We have the excellent human source for advocating science and respecting talents. We accumulate plentiful management experience and professional knowledge in many years' development.
We promise we can rely on the scientific management system, and advanced production devices and skills to supply world-class products and services. ...