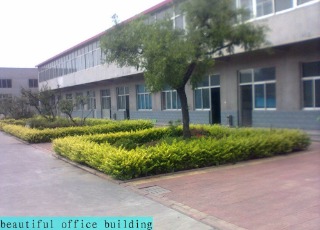 Weifang Zhida Special Ceramics Co.,Ltd is located in Weifang city, the middle of Shandong Peninsular, the scenic international Kite Capital. Established in 2003, with registered capital one million yuan, this project first phase always invests even more than sixteen millions yuan, the total area is sixty mu. The company specilizes in manufacturing Silicon Carbide products and has grown to be one of the professional leading SiC products exporters and manufactures in China.
The technical force is abundant in company. There are more than thirty intermediate and senior engineers in development department. They are engaged in development and designment of new products by means of advanced CAD and CNC center. There are four large vaccum sintering furnaces which are the most advanced around the world as well as more than thirty various kinds of machining equipments. The quality systems are sound and valid. We are one of first to be verified ISO9001:2008 quality system in this industry. All products are in accordance with ISO9001 Quality Management System. In addition, we also have a sound strict quality inspection system and every product is strictly inspected by our professional inspectors before shippment. The performance of our products has achieved advanced international level with excellent properties, such as high temperature tolerance, high bending strength, excellent thermal conductivity, corrosion resistance and oxidation resistance,etc which all have been passed through the inspection and approval by the nation authority. The company is also the main drafting unit for two national standard systems, one is Silicon Carbdie Special Products-Beam, the other is Silicon Carbide Special Products-Burner Nozzle. Mr. Mingxin Li , the general manager, is the main drafter. It's also the standing director of Weifang SiC Industry Association.
The series of products are beams, rollers, burner nozzles, radiant tubes, cooling air pipes, thermocouple protection tubes, sandblasting nozzles, plates and batts, saggers and crucibles, linings, wear resistant parts, sealing parts, special shaped parts, desulphurization nozzles, etc. They are widely used in all kinds of engineering equipments, such as industrial furnaces, desulphurizing equipments, big boilers, etc, other fields of industry such as machinery, metallurgy, electronics, chemical industry, petroleum, iron and steel, ceramics, paper making, mining industry, nuclear industry, national defence as well. The products have been exported to many countries around the world, such as Germany, Spain, Turkey, Italy, India, America, Indonesia, Australia, South Korea, Japan, Vietnam, etc.
We recognize your products and requirements may differ from our focus. However, we will spare every effort to fully understand your need and meet your requirement. We commit ourselves to be your reliable business partner and trustful supplier and create a prosperous future with our joint efforts. ...