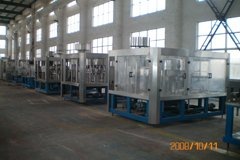 Zhangjiagang Huanyu Beverage Machinery Co., Ltd. is a key production enterprise specialized in producing and researching foodstuff and beverage facilities. The company has been treating market as the guide, technology as the spigot, quality as the main line, after-sales service as the reliable guarantee, and also has established the complete guarantee system. The company has a team of high quality and professional workers, who have valuable design and manufacturing experience and has imports and exports right of self-operation and acting for domestic goods as well as technical business, it can undertake various kinds of turm-key projects.
Our company main produce filling machine, liquid filling machine, liquid packing machine, bottling machine, bottle packing machine, water filling machine, beverage machine, oil filling machine, beer filling machine, fruit juice filling machine, filler, rinser, capper, capping machine, washer, washing machine, bottle washer, bottle washing machine, pop can filling machine, pop can filling line. pop can capping machine, capping machine, 5 gallon filling machine, 5 gallon washing, filing and capping machine monoblock, 5 gallon filling line
We also exported to more than 10 countries and regions, such as Russia, Kirgizia, Malaysia, Indonesia, Philippine, Vietnam, Libya, Kenya. Therefore our products are highly recommended by many customers. In the meantime, our company can provide our customers with such service as technology consultation, plane design for workshop, installation and testing, technique training.
...