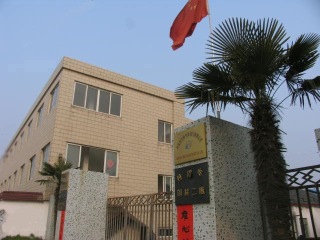 Danyang Feilun Gas Valve Co., Ltd. is located at Yanling Town, in the south outskirts of Danyang City in Jiangsu Province. In 2001, our company was transferred to be a private enterprise. Currently, our company covers an area of 12000 square meters, with a plant area of 7000 square meters and a warehousing area of 1500 square meters. We have a staff of 220 persons, including 15 engineers and technicians. Our company has been founded with registered capital of USD1,550,000, with annual sales of approximately USD6,200,000. Our products are mainly sold to domestic market in various provinces and cities and partial products are exported to Southeast Asia, the Middle East and Europe. In recent several years, our export volume has approximately accounted for 3% in total yield.
Our company is well equipped with eight axes special machines, numerical control machine tools, automatic lathes, turret lathes, presses, mold engraving machines, line cutters and other kinds of machining equipments, and has a whole set of continuous casting and rolling equipment for smelting Lead Brass HPb59-1 bars. We have various check-out facilities and testing methods for the product inspection, like DC-3000 spectrum analyzer, material stretch testing machine, WCPZ-3015 examination projecting apparatus, bursting pressure testing machine, aero seal test panel, JV-25 vibration table, and GDW-250D height temperate life tester.
The advanced experiment equipment, detecting instruments and measuring instruments effectively guarantee the quality of our products. We attained ISO9001:2000 quality and scientific quality certification in 2003 and passed ISO9001:2008 quality management system audited by Shanghai Quality and Technical Certification Center in 2009 (Registration Number: 04208Q10050ROS). We have also attained "People's Republic of China Special Equipment Manufacturing License "(Certificate Number: TSF210024-2012).
Our main products are all kinds of industrial high pressure gas cylinder valves, pipe cut-off valves, pipe reducers; fire with air breathing valves, regulators, alarm whistles, high pressure hoses; low-temperature thermal insulation bottle valves, safety valves; gas automatic cut over boxes, centralism air feeders, high accuracy gas mix adapters, tempering stoppers, gas terminal boxes, auto-ignition installments, flame cutting torches, complete equipment of gas cylinder testing (seamless, welding, acetylene, LPG, natural gas) and other serial products. ...