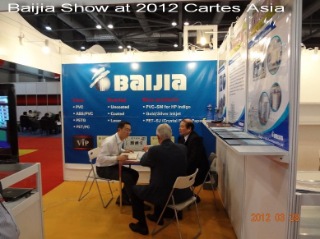 Baixing Group Co., Ltd., established in 1988, is one of the largest PVC manufacturers in mainland China.We have 5 branch factory specializing in production of different PVC products for many application.
From 2008,we start to delvelope eco material such as PET film for packaging/printng,EVA film for sloar sheet and BOPET film for solar sheet.
Every year we produce more than 500,000,000 yards of PVC/PU coated fabrics and 60,000 tons of PVC films. These fabrics are ideal for producing luggage, tents, bags, shoes, outerwear and raincoats. We have our own factory which specializes in producing raincoats. By using our own raw materials, we can supply 250,000 pieces of raincoats every month.
We keep developing new productsto satisfy the needs of our customers,in 2007 start to manufacture PVC core sheet/Overlay film for card industry,the thickness of overlay can be 40microns;in 2008 start to make printing on PVC film for furniture,in 2009 we start to develop PET products and the production line of PET turned into use in 2010,at the same year,we start a new heat transfer machine of 8 colors to make a perfect printing for outdoor products.
Our PVC/PU/PA coated fabric lines:
1) 63D - 68D (160T, 170T, 190T), 210D, 420D, 300D, 600D,1000D polyester fabric
2) 170T, 190T, 420D, 840D, 1680D nylon fabric
3) Printed polyester fabric
4)Jacquard fabric
Our PVC products:
1) Soft PVC film (normal clear, super clear, color film)
2) PVC rigid sheet/PVC Semi-Rigid sheet
3)PVC decorative sheet
4) PVC card material (PVC core sheet and Overlay film)
5) Tarpaulin
6) PVC/Polyester/PVC PVC/Polyester
7)printing PVC film
Our PET products;
1)PET transparent film
2)printing PET film
Our EVA film:
1)EVA film for solar sheet
Our PVC garments lines:
1) Raincoats / rainsuits
2) Poncho
3) Children's raincoat
4) Labor workwear
5) All kinds of PVC bags
6) PVC blanket
7) Truck tarpaulins
Our company has established good reputations in products' quality and after-sales service. We sincerely hope to establish long-term business relationships with friends from all areas and countries in the world. ...