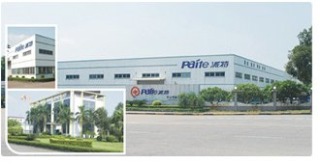 Founded in 1999, Zhongshan Paite Electric Appliance Co., Ltd. is a researcher and manufacturer of home appliances. To be a renowned enterprise with the largest scale in global industry of home appliances is our Paite's mission. Since the beginning, Paite has been committed to manufacturing superior home appliances under our spirits of devotedness, credibility, teamwork, and innovation. We are one of the most outstanding OEM companies of home appliances.
Our factory covers an area of 40,000sqm and is equipped with more than 300 sets of equipment and testing devices for manufacturing electric fireplaces, gas heaters and hardwares. Each year, we turn out 200,000 electric fireplaces and 100,000 gas heaters and 2 million sets of hardwares. We have set up two business divisions. One is Paite Electric Appliance Division under which is a factory for whole-unit assembly. The other is a Hardware Division under which is a metal punch factory. We own an advanced lab with excellent design ability. Some of our engineers are members of the Committee for Compiling State Standards of Home appliances. Besides, we have a specialized manufacturing team. That lays a new foundation for our future better development.
To make sure customers are satisfied with our products and service, employees have opportunities to realize their values and we can create wealth for society is our mission and core value. We are uncompromising in accordance with human-centered management. We let our employees do what they are good at, and we trust and respect them. We unite our associates by culture, motivate them by mechanism, and lead them by rules. We treat our staff with a grateful heart. All of us work with pioneering spirit. Every employee fulfills his/her duties, and they together serve Paite. Those are our ideas and manners. Only being united, we can create value and bring innovative ideas and development for Paite. Meanwhile, our service has won us praise and reputation. We serve customers wholeheartedly and we mean what we say, and this is our service principle. We are a charming team both to employees and to customers. For them, we take an attitude of friendliness, openness and coordination.
To face a competitive market after China's entry into WTO in this new century, Paite, to win international competition, has put forward an operational strategy that is featured by responding fast and taking lead in technology and innovation. We continue to uphold our corporate spirit of "Devoted, Credible, United, and Innovative". Focusing on quality and service, we continue to share first-class products and service with our customers in a highly-efficient way. Taking root in domestic market, we plan to enter into the international space under our strategy of global development. Besides, our new target has been set up. We aim to provide world-top home appliances and build a well-known brand.
Paite is for the world. ...