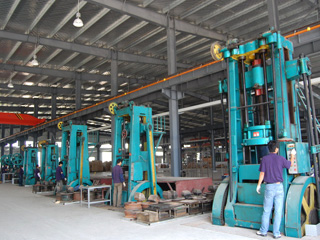 Established in 1987, Zhenjiang Sanwei Conveying Equipment Co., Ltd. specializes in research and manufacturing of conveying equipment accessories, bulk material handling equipment, rubber conveyor belt and UHMWPE articles. As a leading company in this industry, we have a subsidiary, Zhenjiang Welkin Electronics Co., Ltd., which is specialized in researching and producing electronic ballasts and energy saving compact fluorescent lamps. We are one of the foremost manufacturers of electronic ballasts in China, with 90% of which exported to overseas.
Our company is located in the beautiful and richly endowed Yangtze Delta with very convenient inland transportation, waterage and air transportation. Two universities in our city provide us with advanced technology and sufficient talents. Our facilities cover an area of 33,000 square meters, with a 25,000-square-meter up-to-date plant included. Professional technicians take over one third of our total number of employees.
Adhering to the corporate spirit of "Sincerity, Solidarity, Devotion", we are guided by the ideology of "Honest, Faithful, Creative, and Practical". We are obliged to offer customers reliable products at competitive price all the time. Now we keep good partnership with many famous corporations, such as Mitchell Mill Systems, Satake Manufacturing Co., Ltd., Cargill, WAM group, etc. Meanwhile, we adopt modern management methods and up-to-date systems, such as Enterprise Resource Planning (K3/ERP), Client Relations Management (CRM) and Office Automation (OA), to guarantee steady operation of corporate management, product design and manufacture and customer support services.
Ensuring competitive prices and high quality products, we welcome clients to visit our website for more information. Your enquiries are appreciated whenever. ...