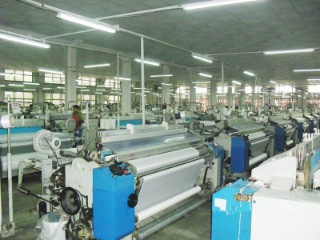 Our factory is located in the "China's Eastern Silk Capital" -- Shengze Town, Wujiang City, Jiangsu Province, which has the largest volume of textile business transactions in China.
Our factory was founded in 2004, covering an area of 12,000 square meters, equipped with 280 sets of Toyota air-jet looms and ancillary equipment to the leading international technological standards. Our annual fabric production capacity has reached 30 million meters and the annual sales volume amounts to 150 million RMB. We have two independent trading companies: Suzhou Lanyang Textile Technology Co., Ltd. and Suzhou Sunny Textile Technology Co., Ltd.
The main products of Lanyang Textile are Polyester Taffeta, Pongee, Micro Fiber, Oxford, Fake Silk Fabric and Printed Fabric.
Sunny Textile mainly sells outdoor functional fabric, such as Quick-dry fabric, durable anti-oil, water, stain fabric, and ECO fabric, and water-proof and down-proof fabric for Ski Wear, etc.
We now have 220 people in our factory, and almost 3000 people indirectly working for our products, including our QC members, who test and control the quality of our products strictly. There are professional QA Inspectors in our trading department checking every order of our fabric carefully.
Currently, we have business cooperation with some famous companies, such as TOREAD, JIANNONG, SCALER and HIGHROCK in China, and cooperate with H&M, TAGERT, and WALMART in foreign countries.
For the richness of our products, we have built stable business relationships with many customers in China and overseas countries. Of course, we also customize and develop samples from our customers and our R&D Department will satisfy you with style, finishing and hand feeling. ...