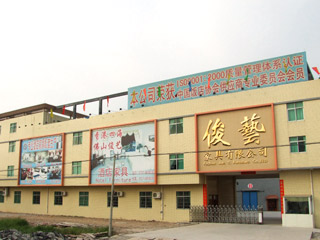 Foshan Junyi Furniture Co., Ltd is a modern enterprise specializing in manufacturing and designing high-class hotel, villa and home furniture. With over ten years' experience in designing and manufacturing, we can not only supply all kinds of hotel suite room furniture, but also restaurant furniture, hall furniture, etc, Our old factory is located in Huichang Industry Zone, Jiujiang Town, Nanhai District, Foshan City, Guangdong Province, China. Meanwhile, our new modern factory which located in Jiujiang Yannan Industry Zone has be operated in the end of 2007.Now, our modern factory covers an area of 39500 square meters, Our team includes over 500 management professionals, furniture designers, experienced technicians and salesmen.
Since our establishment, Creation and perfection are always in our top priority position. Our products have be certificated by ISO 9001-2000 quality management system, and keep passing the periodical inspection by the national inspection department. We are proud to be a member of China Hotel Association and Restaurant Supplier Committee. With the high quality and perfect design, our products are hot-sell all over the world, we help exporting our popular products to Europe, U.S.A and Middle East every month .For instance, we have successfully supplied more than 600 famous hotels in mainland and overseas with all kinds hotel furniture and accessories. We have cooperated with Hilton Hotel, Holiday-Express Hotel, Holiday-INN Hotel, Phoenix Grand Hotel, Canada Comfort Hotel, Macau Fortune Hotel, etc.
In addition to these, A professional designing room and beautiful showroom cover 2000 square meters are waiting for you, we sincerely welcome your kind visit and your custom design.
We will try our best to provide our clients with unique design, high quality material, professional manufacturing and perfect after-sale service for our better future. ...