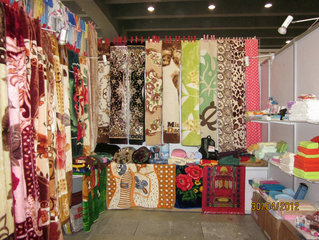 Hangzhou Nova Import And Export Trade Co., Ltd. is a liability limited company mainly engaged in the import and export trade. Our company is located in Zhejiang, China, cooperating with clients from America, the EU, Asia and other countries and regions. Since our inception in 2004, our company has captured opportunities in the global markets by leveraging and integrating market research, service and quality control. We have offered clients a whole range of trade and related services covering local product export, sourcing services and logistic support.
Main products
-Textiles: polyester blanket, towel, carpet
Based on the integration of domestic resources and the extensive study of the production on polyester blankets, carpets, and towels in China, we can satisfy clients' requirements both on quality and price. We exported almost 300 containers of textiles every year; the quantity will have a smooth increase in future.
-Hardware: bolt and screw, sofa leg
We have exported hardware since the foundation of our company. The products we exported include screw and bolts, stamping and casting sofa legs. All the products comply with the EU standard.
-Import 100% cotton yarn with OE10s, 12s, 16s, 21s, CD32s, 40s.
You are welcome to visit our online show room for more information of our products.
Customer services
-Expert foreign trade service staff members
In NOVA, all of our clients are our long-term partners. Our professional service staff members can settle most of the problems in the trading processes, from market research to shipping and from quotation to quality control. We are committed to offering quality services.
-Fast and professional order response team
After receiving your inquiry, a detailed quotation sheet will be prepared within 2 working days. The appointed service person will answer all of your questions in any time during the working hours both by call or email.
We sincerely look forward to building business relationships with you for mutual benefits. ...