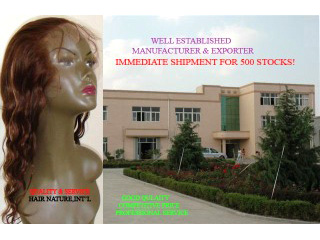 This is a message from Hair Nature,Int'l,a well estabished factory designing and manufacturing custom and stock Hair Replacement Systems for international market.
ALL DESIGNS AND MATERIALS ARE AVAILABLE:full,extra long,synthetic,remy,partials,all lace,French lace,lace fronts,scalloped poly fronts,injection unit,silicone units, etc.
IF YOU DESIGN IT,WE CAN MAKE IT.
US$95 a unit for normal custom made quality hair systems(less than 8"x10" in base size with less than 6" hair) !
You can pay as little as US$90 for a normal stock unit.
We can offer further concessions on price if you can order more than 100 pieces one month.
Price isn't everything.
Receiving the unit made correctly THE FIRST TIME -with high quality materials,quick production,and attention to details,are more important considerations.
Those are EXACTLY what we provide you!
Your units will be accepted & appreciated,reorders will be plentiful and problems are few.
Turn around is MUCH quicker:3-4 weeks' standard production time and Rush order only take 2-3 weeks!
NO MORE WHISPERING DOWN THE LANE.
Many buyers are dealing solely with us for quite some time.
Why not order directly from the good factory?
You can use your order form and other ordering infirmation you are currently using if you like.
Our order form,price list,and other necessary files will be supplied upon request.
Looking forward to enter into business relations with you with much interest!
Kindest Regards.
Max Zhang
General Manager
Hair Nauture,Int'l
Tel:+86-532-85818663
Fax:+86-532-85812165 ...