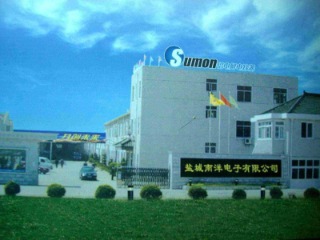 Welcome to Jiangsu Southocean Optoelectronics Co., Ltd. which is established in 2003. It is a group comany,and it have two subsidiary corporation.One is SOUTHOCEAN MACHINERY CO.'LTD and another is SOUTHOCEAN TRADING CO.,LTD.We are professional manufacturer of three series of products:
1)cutting machinery 2)electronic products 3)generator and solar energy
1)With all satisfactory equipments,rich technological strength,strict management and high production efficency,we have manufacture and sale numbers of cutting machines,shoe machines,which are superior in quatity,wide in variety and complete in specification,and welcome orders for custom-made such products.Our main products include:hydraulic cutting machine series,gluing machine series,stamping machine series,skiving machine series,folding machines series etc.
2)Eletronic products: a)led products:led sign ,led display,Led writing board,, Led screen,Led light box and so on: b)inverter.c)eenergy saving lamps,fluorescent lamp,electronic ballast .d) eletonic components :aluminum electrolytic capacitors,carbon film resistor, ceramic capacitor,chip capacitor,chip resistor.We are also sale other eletronic component:chip tantalum capacitor, chip aluminum electrolytic capacitors, chip diode,chip transistor , IC integrated circuit.
3)generator, solar energy, brake pad,
Strong Technology and Development,which is made up of 15 Designers and 35 engineers,can develp about 100 new products every year.;High and steady quality make us go through CE/SGS/ROHS/ certification.
if you are interested in our company,welcome to our website.Go througt it,and get more opportunity.
Our main export markets now include North America, South America, Western Europe, Eastern Europe and the Middle East.
In order to provide clients with the best products, we have implemented a quality control system in strict accordance with international practices. Comprehensive QC and QA measures have been integrated into all aspects of the manufacturing process, with defective items removed from the production line for further testing and disposal.
If you are interested in any of our series, or have an OEM/ODM requirement to fill, please don't hesitate to contact us for more details. We sincerely welcome all business with cooperative. ...