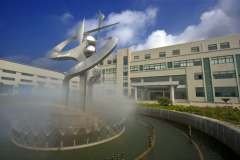 CHANGZHOU POWER STATION AUXILIARY EQUIPMENT WORKS,LTD. Was established in June,1965.Our company has 400 personnel ,including 105 engineering staff. Now our company has come up to one of Jiangsu Provincial Material Progress and Cultural and Ethical Progress units. As director member of China National Valve Association and one of the members drafting the national standard for electric Valve actuators, having carried out Jiangsu Provincial Torch Project, our company is one of the largest enterprises in our country to manufacture electric valve actuators. Our company has become a supplier member of China National Complete Power Plant Department, Power programme and Design Institute of China National Power Company ,China National Petroleum Pipeline Material and Equipment Company, and a supplier member recommended by Sino Petrochemical Company .and a qualified supplier to Qinshan Nuclear Power Station, Tianwan Nuclear Power Station, and Lingao Nuclear Power Station in China etc. We have self-support imports and exports. Our chief line is in manufacture of electric valve actuators and three-phase AC asynchronous motors for common use and Class IE electric valve actuators and three-phase AC asynchronous motors for nuclear service. Our products are supplied extensively to power stations, hydraulic engineering, metallurgical industry, chemical industry, pipeline transportation, water supply and heat supply, shipbuilding, municipal construction, and nuclear power stations, etc. These products are also exported to Korea , India, Philippines, and Burma. Electric valve actuators and three-phase AC asynchronous motors for nuclear service have been supplied successively to Phase 1 Project of Qinshan Nuclear Power Company,P300 Project Nuclear Power Plant in Pakistan, Phase 2 Project of Qinshan Nuclear Power Company ,Lingao Nuclear Power Station, Tianwan Nuclear Power Station, Experimental High Temperature Gas-Cooled Reactor, Fast Reactor in Beijing Nuclear Energy Research Institute, etc.
Our company has always laid stress on technological long-term cooperation with large-scale groups, research institutes, colleges and universities at home.
We have taken part in the research and development of Class IE electric valve actuator of first generation in our country.we have researched and developed electric valve actuators and three-phase AC asynchronous motors for nuclear service. We have also developed electric valve actuators of integral type, modulating type, high-temperature type, and two-speed type for various applications. In recent years, we have introduced advanced control technology from French Schneider and developed the non-intrusive intellectualized electric actuators of foremost technology at home . Our products have been updated continuously so that they can meet with increasing diverse demands of market and users. We have won state new product prize for electric actuators and electric motors for nuclear service and Jiangsu Provincial prize of product of high and new-technology for common electric actuators of 25 sorts.
The quality management system of our company was qualified to conform to the ISO 9001 Quality Management System by China National Machine-Building Industry Quality system Certification Center in 1995.
Quality assurance is always go along with our business an process. The concept of "products of high quality proceeding form personnel of high quality"has found its way deep into the personnel"heart. The key and core of our quality control and quality assurance is to carry out real-time monitoring and controlling in all processes, and systematic, standard, circular measurement with advanced and precise measuring equipment and instruments before delivery. We always embrace our managing tenet "Be responsible for users and make users satisfactory"and we are always ready to provide both old users and new users with products of high quality and high-class service. ...