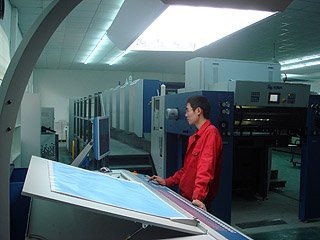 Since 1992, as a real, direct and professional manufacturer in China, Ningbo Lijia Industry Co., Ltd. has grown to become one of premier OEM/ODM manufacturer and exporter specializing in producing board games, card games, playing cards, game components, velvet art posters, packaging box, American mahjong and accessories, bingo series, Backgammon, etc. We own 3 factories: a plastic forming factory, a printing & packaging factory and a wood products factory, and cooperate with more than 15 game parts mills professionally to manufacture and export around 1 million pcs of game products per year. We have experienced people, world class equipments and personalized servie to help our clients with full servie of manufacturing board and card game, and more.
In 2009, Ningbo Lijia Industry Joined China Hua Sheng Printing Company Group, greatly extending our printing service to our valued clients all over the world and meeting client's growing demands for top quality printing products. We are committed to satisfy our clients with top quality, competitive pricing and fast turnaround. We can meet you any need in printing industry, metal/ wood and plastic game pieces manufacturing, cut, assembling, delivery, and more.
All our equipment is among the finest ones in the world. Our state-of-the-art computers, pre-press equipment and printing presses are updated regularly to keep pace with the latest technology in the printing and packaging industry so that we can be sure that we only produce work of the highest quality. Our printing machinery includes Man Roland 6-color printing machine, Heidelberg 4C printing machine and Polar paper guillotine. Our Filming Department is equipped with automatic plate processor, exposure frame, film contact printer, film punch, and PS plate punch. We have all post-press equipment such as book pressing machine, card board laminator, creasing and cutting machines, automatic die cutting machines, gluing machines, power corner cutting machines, P.P. Laminator, UV oil-passing polishing dual machines, varnishing machines, etc.
Our plastic factory has 35 injection machines with many different capacities. We have an OEM department with specialized technicians for product development as well as our own imprinting and spraying facilities in place. Other related services that we can provide include creating mock-up, technical drawing, 3D files and injection molding. There are more than 100 existing injection molds in our workshop to produce almost all kinds of game pieces related to game industry.
We also specialize in manufacturing American mahjong, bingo, backgammon, roulettes,and their accessories , etc. Other custom plastic/ wood and metal products are also available because of our great experience in industry of plastic injection forming, die-casting, blow forming, slush forming, vacuum forming, acrylic manufacturing, heat transfer printing, silkscreen, pad printing, hot stamping, vacuum plating, etc.
We believe that successful communication between manufacturers and clients is based on reliability and honesty. Strict adherence to this principle allows us to consistently meet and exceed our customers' expectations. It also keeps our customers coming back all the time.
Our guiding principles are providing trust, honesty, co-operation and fair treatment for all clients, and being a good company in our professional manufacturing fields. We dedicate ourselves to continuous improvement in our processes, products and services.
Our distinct advantage is real and direct Chinese pricing, good and safe products, personalized communication and great responsibility and on time delivery.
Ningbo Lijia Industry warmly welcome new and old customers, internal and external clients to visit and supervise our company. ...