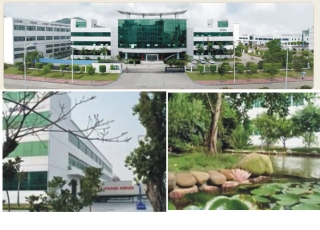 Zhuhai Sanjin Industrial Co. Ltd. is one of the earliest, biggest and most professional karaoke system manufacturers in China. Its headquarter and manufacturing center are located in Zhuhai, China, which is a beautiful coastal city. Since establishment in 1994, Sanjin has been dedicated to research and development, production and sales in the karaoke area. Now Sanjin has established itself as a specialized karaoke apparatus manufacturer. It owns modernized factory premises of 12,000m2 (129,168 square feet), a research and development center of 1,100 m2 (11,840 square feet), a modern recording studio mainly composed of Roland equipment and a faculty of 400 high-caliber employees.
Based on its strong R&D strength, and rich professional expertise, Sanjin has presented successively a series of products, e.g. Hard Disk Karaoke Systems, Magic Microphone Systems, MiDi DVD Karaoke Systems, Multi DVD Changer, Karaoke Amplifier & Speaker System.
We believe that only high quality employees can manufacture high quality products. Therefore, we source most of line workers from vocational schools. Each new employee is provided with systematic training upon admission. Only qualified employees are certified to operate.
"No unqualified components admitted. No imperfect products manufactured. No flawed products delivered." These are the unswerving goals of our quality inspection department.
"To weed through the old to bring forth the new and to create value" has helped Sanjin grow up with customers. The strong R&D capability is the essential guarantee to achieve the above goals. So Sanjin has been all out to make heavy investment in the R&D department ever since it was founded. Now Sanjin is based itself on an R&D team of over 40 skilled and experienced engineers. The solid developing strength and deep understanding of the profession make Sanjin's series products stand at the front-end of the karaoke sector. Sanjin has put itself into a healthy cycle, which is to produce a generation, to reserve a generation and to develop a generation.
A well-trained service team composed of technical supporters and product consultants provide upstanding, responsive and professional after-sale services. The philosophy of "Serve each customer with warm heart every day" has built up a bridge between Sanjin and customers. The endeavors over the past ten years and more have made the premium services one of core competencies of Sanjin.
Looking into the future, we will continue basing ourselves on the infinite developing potential of the global karaoke market and elaborating our competitive advantages to become a professional karaoke apparatus manufacturer with world leadership and sustaining brand. ...