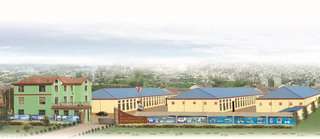 Our company is a manufacturer of woodworking machines with more than 20 Years experience, located in Qingdao, China.
Here is the manufacturing base for production lines of kitchen cabinets, cabinet doors, whole cabinets, decoration materials etc.
We are the leading supplier for all kinds of woodworking machines, such as edge banding machine, sanding machine, drilling machine, sliding table panel saw, wood boring machine, post forming machine, CNC, vacuum membrane pressing machine, woodworking router, press machine etc, more than 100 models products, We sell to all parts of China and export to Southeast Asian, Western Europe, North America, Russia, Africa etc more than 20 countries and regions.
Company's research and development strength is rich, have professional research and development team including more than 100 people, have fine scientific Research development environments, establishing long-term technology and talent's cooperation with domestic famous universities and scientific research Institutions, the research and development ability of the new products has been in counterpart's guide status all the time too, products introduced remain technological at high grade, quality of good performance, market advantage in best quality and reasonable price.
To the new situation of the trade and development of market, since 2000, our company succeed in setting foot in ornament materials production, research and development already and whole cupboard, furniture production and trade, and has made a breakthrough in this field. The company produces suck and mould the board, crystal board, painting board, are able to bear four major series such as the board triumphantly, Over one hundred cupboard door plant if specification, succeed to sell to all parts of the country.
The company fully utilizes technology and brand advantage, and complete selling management system and strong marketing team, having set up developed Commercial network in all parts of the country, the products have already covered each area of the whole country, set up and amplify in the after-sale service site at the same time, high-quality attendants after sale and specialized installation debug the team, can offer high-qualify prompt technological consolation and installation service to customer.
Keep improving achieve success through good quality, in basic research and industrization, the team who devoted toes domestic navigation of the same Trade of our company.
Any inquiry or visiting from home or overseas is welcome. Believe we will be your BEST partner in China. ...