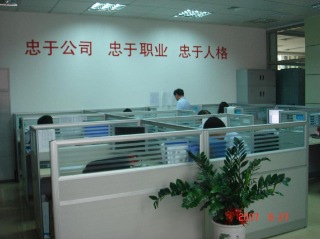 TANGSHAN GRAND FAITH STEEL CO., LTD WAS ESTABLISHED IN YEAR 2000, WITH REGISTERED CAPITAL 100 MILLION RMB YUAN. IT IS A LARGE SCALE ENTERPRISE MAINLY FOCUSING ON THE PRODUCTION AND EXPORT OF HOT ROLLED STRUCTURAL STEEL PRODUCTS.
WITH THE GREAT SURPORT FROM CUSTOMERS IN CHINA AND ABROAD, OUR BUSINESS SCOPE BECOMES WIDER AND GREATER; AND TURNOVER HAS ENHANCED ENORMOUSLY SINCE THE ESTABLISHMENT OF OUR COMPANY. AT PRESENT WE HAVE MADE INVESTMENT FOR THREE ROLLING MILLS AND HOLDING 4 ADVANCED CONTINUOUS ROLLING LINES. MEANWHILE, WE HAVE OPENED MANY SALES OUTLETS BOTH IN CHINA AND ABROAD, IN YEAR 2008 OUR TURNOVER HAS EXCEEDED 4 BILLION RMB YUAN, INCLUDING 250 MILLION U.S. DOLLERS OF EXPORT, AND OUR COMPANY IS THE KEY ENTERPRISE IN TANGSHAN FOR THE EXPORT OF STEEL PRODUCTS, AND WE ALSO RANKED TOP 20 COMPANIES IN HEBEI PROVINCE FOR THE EXPORT BUSINESS.
OUR COMPANY'S MAIN PRODUCTS ARE STRUCTURAL STEELS, STEEL COILS/STRIP, STEEL BILLETS, CONSTRUCTION MATERIALS AND SO ON. "THROUGH THE EXPANSION OF OUR INDUSTRIAL CHAIN, TO CONTINUOUSLY INCREASE OUR COMPANY'S OVERALL COMPETITIVENESS" IS THE CONSTANT POLICY FOR OUR COMPANY'S MANAGEMENT.
RELYING ON OUR STRONG INDUSTRY BACKGROUND AND FULL DISTRIBUTION CHANNELS FOR OUR PRODUCTS, WE PURCHASE THE PRODUCTS GLOBALY AND DISTRIBUTE OUR PRODUCTS WORLDWIDE, TO FORGE US AS ONE OF THE MOST COMPETITIVE STEEL SUPPLIERS IN THE WORLD STEEL MARKET, TO CREATE MORE VALUES FOR CUSTOMERS, AND MAINTAIN OUR UNIQUE AND STABLE LEADING POSITION.
WE HAVE OUR MOST COMPETITIVE PRODUCTS: STRUCTURAL STEELS (STEEL ANGLES, CHANNELS, H-BEAMS AND I-BEAMS). AS WHILE AS WE MAKE FULL USE OF OUR OWN PRODUCTION CAPABILITY, WE ALSO UNITED 13 LEADING ROLLING MILLS AND HAD INVESTED MORE THAN 3 MILLION U.S. DOLLARS TO RESEARCH & DEVELOP THE FULL SERIES OF JIS, EN AND ASTM STANDARD STRUCTURAL STEEL PRODUCTS. AT PRESENT, WE HAVE BECOME THE LEADING ENTERPRISE FOR STRUCTURAL STEELS WITH THE FULLEST PRODUCT SPECTRUM. OUR PRODUCTS ARE WELL RECEIVED WORLDWIDE, AND GET HIGH RECOGNITION FROM THE CUSTOMERS AT HOME AND ABROAD.
WE HAVE THE MOST COMPLETE PRODUCT LINE. ON BASIS OF STRUCTURAL STEEL BUSINESS, WE ALSO DEAL WITH STEEL PLATES, ERW STEEL TUBES AND CONSTRUCTION MATERIALS. NOW OUR SUBSIDIARY COMPANIES HAVE BECOME THE MAIN DISTRIBUTOR FOR HEBEI IRON & STEEL GROUP, HEBEI JINXI IRON & STEEL CO., LTD. QIAN AN JIUJIANG WIRE ROD CO., LTD. TANGSHAN GUOFENG IRON & STEEL CO., LTD., AND WE HAVE ESTABLISHED THE LONG TERM COOPERATION WITH MUTUAL BENEFIT WITH THESE BIG MILLS.
WE HAVE A PROFESSIONAL TEAM TO OFFER OUR BEST SERVICE FOR OUR CUSTOMERS. IN YEAR 2001 WE HAVE BEEN QUALIFIED FOR THE ISO9001-2000 QUALITY CERTIFICATION, NOW WE HAVE SCORES OF TECHNICIANS TO INSPECT THE QUALITY OF THE GOODS ORDERED BY CUSTOMERS, FROM THE START OF PRODUCTION IN THE WORKSHOP UP TO THE LOADING THE GOODS INTO THE VESSEL WE HAVE A COMPLETE QUALITY FOLLOW-UP PROCEDURE, TO ASSURE OUR PRODUCTS ARRIVES TO THE CUSTOMER WITH SATISFACTION.
WE HAVE MUCH STRONG CAPABILITY TO CARRY OUT THE CONTRACTS SIGNED WITH ALL CUSTOMERS, AND TO RESIST ANY RISK MAY OCCUR DURING THE CONTRACT. WITH OUR OWN STRONG CAPTITAL SUPPORT, WE DEAL WITH PRIMARY MATERIAL PRODUCTS SUCH AS STEEL BILLET UPTO THE END PRODUCTS. WHEN THE MARKET GOES UP AND DOWN, WE HAVE VERY STRONG ANTI-RISK CAPABILITY, AND WE CARRIED OUT THE CONTRACTS WITH ALL THE CUSTOMERS, AND DELIVERED GOODS TO THEM, WE BECAME THE SHINING STAR FROM NUMEROUS STEEL COMPANIES IN CHINA, AND WE HAVE LOT OF LOYAL OLD CUSTOMERS FROM EAST AND WEST.
UNTIL TODAY WE HAVE MAINTAINED "FAITHFUL COOPERATION WITH ALL CUSTOMERS" AS OUR GOLDEN PRINCIPLE, AND WE BELIEVE THAT WITH THIS GOLDEN RULE WE ARE STEADY FORWARD TO A MUCH MORE BRIGHT FUTURE! ...