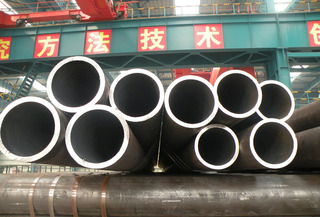 Cangzhou Tianyi Pipeline Co., Ltd. is located at Yanta Road, Cangzhou City, Hebei Province. Our branch company is located at SHENZHEN City Guangdong Province. Our company enjoys a good geographic position as the transportation here is pretty convenient.
Our company occupies an area of 80,000sq. m. with a built-up area of 20,000sq. m. Our total capital is RMB1500000 and registered capital is RMB30 million. Our present workforce is 360, including 80 technical staff members. With integrity, effective quality management and quality assurance systems, in February 2001, our company passed the evaluation of ISO9001 Quality System Certification, and in 2003, we started to run business in accordance with API5L and API5CT authentications.
Tianyi has modern equipment and complete inspection methods. Moreover, advanced inspection devices - X beam crack detection, ultrasonic testing, and hydrostatic pressure testing machines, tensile testing machine, physics and chemistry laboratories and integrated measuring systems serve us with good performance. Thus, our goods production can be guaranteed to be in compliance with standard and satisfy customers' requirements.
Our two main product series are as follows:
1. Steel pipe series: seamless steel pipes, hot rolled steel pipes, welded steel pipe, submerged-arc straight welding slit tubes, steel pipes complying with American standards and JIN standard ect.
2. Pipe fittings: elbows, flange, tees, tapered pipes etc..
At present, our company's yearly output is: for OD219-1820 spiral seam two-sided submerged-arc welding steel pipes: 200,000 tons; forOD57-377 hot rolled seamless steel pipes: 200,000 tons; for OD377-630 heat expanded seamless steel pipes: 60,000 tons. We carry out the standards of SY/T5037, GB/T9711, GB/T8163, API5L and APT5CT. Our products are widely applicable to long distance pipeline for transportation of petroleum, natural gas, coal gas and water, as well as the industries of petrol-chemical enterprises, craft pipe networks, city central heating projects, gas-pipe networks and others. Our products have many advantages such as high intensity, high pressure resistance, convenient installation, low cost and long lifetime. Therefore, they have gained a good reputation from many users'.
Tianyi hopes to cooperate and develop businesses with our clients based on our solid financial strength, advanced management experience, excellent sales services, strict quality management system and overall scientific marketing measures. Herein, our general manager-Guo Junqin , together with all our staff members, thank all our new & old customers' long-term concern and supports! ...