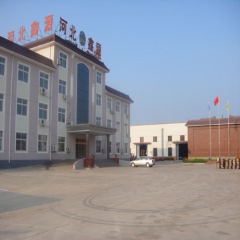 Hebei Xinyuan conveyor Machinery Co., Ltd is a China-based professional manufacturer of belt conveyors and belt conveyor idlers, established in 2003. Our company is primarily engaged in producing and marketing carrying idlers, impact idlers, training idlers, head pulleys, tail pulleys and belt conveyors and so on.
Our products have widely used in the electric power plant, cement, coal, metallurgy, mine, steel and hydroelectric power. We have accumulated 9 years experience in manufacturing conveyor idlers, belt conveyors, pulleys and other products, and now we have established 2 factories in Hebei province, China (mainland). So you can see we develop with a very fast speed, and our products have been used widely used in more than 20 cities in China and received good comments from them. In addition, we have finished our oversea projects in Saudi, Ethiopian, Vietnam, and Jordanian and so on. In order to further improve the quality of our products, we have established several products testing rooms and employed professional technical engineers from technical colleges, who formed a specialized CAD design center. Now we developed an oversea department for selling our products to more foreign countries. The most important is our idlers, pulleys and other products have all passed the ISO9001:2008 and received CE certification.
We not only have fast development, but also have competitive price and good after sale services. We take the operating concept of "product quality is more important than our life", "operating sincerely", takes the operating principles of "three excellencies", "three guarantees", which are supply the excellent products, excellent service, excellent price and guarantee supply goods in time, guarantee supply the accessories, guarantee supply the after-sale service in time. We aim to take the scientific operating system, high quality employees to serve all of our old and new cooperators comprehensively.
We can also research and develop new products as your demand size and catalogue. If you are interested in our products, please free to tell us by E-mail or contact us by phone, E-mail and our website. We hope to have a long-term cooperation to serve as an OEM or export-import relationship with you.
HEBEI XINYUAN CONVEYOR MACHINERY CO., LTD
Export manager: Jinshuang Li
Address: No.121 Nanguan south road, Zaoqiang County, Hebei province, China (mainland)
Tel: +86 318-8224553 Fax: +86 318-8225273
Mobile: +86 13833851419
+86 18910637332
Code: 053100 ...