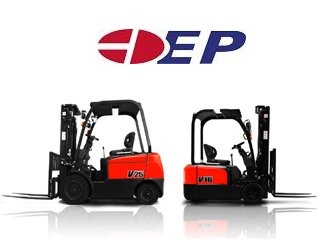 Company profile
Begun as a specialized manufacturer of material handling equipment and OEM products for the worldwide market, E-P Equipment Co., Ltd. (E-P) has grown into a manufacturer that not only supplies a global range of material handling equipment but also provides excellent after-sales services after 20 years of development. As a China based company, we are special. Our international management team is our core motivation. That is why we say about ourselves: we are local but we are special.
One stop sources
We produce a wide range of material handing products to suit all your materials handling needs and have an extensive range of replacement parts for your equipment maintenance needs. Our products range from hand pallet trucks to forklift trucks and include everything in between. It is our goal to fulfill all your material handling needs by eliminating the need to individually source pieces of equipment.
International management
As a China based company with international subsidiaries, we can combine cost effective production and an international management team to create the best value for our customers.
We are building the best equipment
Here at E-P, we place emphasis on getting things right first time and ensuring that what we ship from our warehouse is of the highest quality.
All of our products are subject to rigorous QC testing, inspection and PDI.
We rely on our own extensive experience and work closely with technicians from Japan to ensure that our methods are up to date and stand up to industry standards.
Our confidence in our own standards is reflected in our 2 year warranty policy. We provide a wide range of high quality components such as international engines of many famous brands including Nissan, Mazda and Isuzu, as well as tires produced by a Sino-British company.
Offer distribution internationally
Online service
E-P offers an online service in order to provide 24 hours coverage. On line engineers will response to any request within 24hours.
Our Online parts ordering service and parts claim system are powerful resources to our customers, and our cooperation with TVH has lead to the accumulation of a substantial catalog of parts. Moreover, we also have strong part storage support from EP-USA.
Outstanding achievement
Through years of hard work, we have seen a significant increase in annual revenue.
For each of the last 5 years, we have had at least a 30% growth rate. In total, E-P sold
8000 pieces of equipment from class I to class V in year 2007. Sales turnover for year 2007 reached more than 90,000,000 USD.
Expanding map
E-P has factories in Hangzhou, Jinjing and Anji in order to support the large demands from our global customer base.
R&D
2008 will see the release of our AC (alternating current) range of electric pallet truck stackers and forklift trucks. Advanced technology, made accessible through our partnership with SEEGRID (www.seegrid.com) has lead to the development of our Smart Truck.
E-P offers solution design for customers, from basic product supporting to help with ideas of equipment chose, customer training to after sales service. What ever customers need, E-P will design the best solutions for them.
At the end
E-P wants to benefit customers by giving them supports from any possible things they need. One stop source, international management team, 24 hours online service, R&D and other advantages, these are our competitiveness profitable points we designed for our customers. Only in E-P cam you find the most convenient one stop shopping with excellent customer services.
In the future, we hope more and more new friends will join us to enjoy our success, like our motto: Let's grow together, and grow together. ...