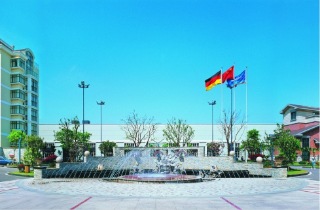 Oulin, a high end kitchen utensils brand, combined European style and Europe technology and Quality standard.
17 years of profound research on product design, craftsmanship and functionality, with a R&D team that was leaded by a renowned German designer and engineering.
Production facilities imported from Germany, Italy, Switzerland and Span;
high end and environmentally friendly material are also imported.
ISO9001:2000 ISO14001:2004 SAP ERP SYS has been implemented in every detail precedure in the production process.
Oulin also partership with local and international R&D institution, and this has helped different collection of Oulin to become more scientific and artistic and Specialized.
Oulin combined kitchen culture and latest design philosophy according to different lifestyle and aesthetics of different ethnics. Oulin kitchen appliances, sinks and kitchen cabinets, are all made through excellent design and craftsmanship, innovative technology, exceptional management, unrivalled functionality and environmentally friendly concept, helping you to shape an exclusive kitchen just for your needs. As an advocator for "One-Stop Service For Kitchen" Oulin's customers can feel the quality that Oulin guarantee through before and after sale service, as well as the whole purchasing experience.
In China, Oulin was in over 30 provinces and cities, with more than 1000 sales and services points; at the same time Oulin has supplied kitchen cabinets, appliances, sinks and other associated products for over 600 different property development projects, involving over 80 real estate companies. Oulin provided intelligent kitchens in over 60 countries and regions, for example: the USA, Germany, Japan and the Middle East.
Creating value, making dreams come true. Every innovation and exceptional technology Oulin developed had not only brought real value to the ultimate users, but also brought trendy kitchen culture and high end artistic lifestyle to different families round the world, creating an international and artistic kitchen world. ...