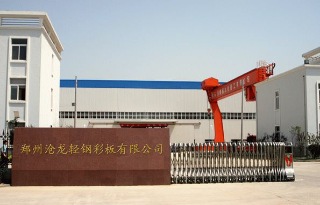 "Making canglong brand, and create first-class performance" is our foundation of development. "Living by quality, and developing by credit" is our power of progress. We provide high quality products and service for clients.
Our company is an incorporate enterprise in steel structure design, manufacture, installation and sale. Our branch companies include Joint Beijing Hualong Steel Engineering Co., Ltd., Beijing Hualong Weiye Color Light Steel Plate Co., Ltd.,
Henan Canglong Steel structure engineering Co., Ltd., Ningxia canglong steel structure enginnering co,.ltd ; Xinjiang Canglong steel structure enginnering co,.ltd and Beijing Construction and Installation Engineering Co., Ltd.
Our products include public buildings, industrial plants, cold storage, building additional layers and commercial kiosks, as well as large and medium-sized steel structure and installation projects. We have cooperated with China Steel Structure
Association. Our products have covered all over the world, such as Vietnam, Costa Rica, Sudan, Mongolia, Guinea ,roumnia,india,senegal,mauritius and other countries and regions.
Our company now has four production lines of CNC welding, CNC color insulation board production lines, and CNC metal pressure plate production lines. We have an annual production capacity of 50,000 tons of steel structure, color-coated steel insulation board of 2,000,000 meters, and C&Z purlin steel of 30,000 tons. Our main products include light steel structures (such as cross-sections, variable cross-section welded H-beams, box-beams and columns), steel truss structures, various models of color-coated steel pressure plates, all kinds of polystyrenes, color rock wool insulation boards, purification boards, floor boards, C&Z-beam purlins and removable color board activity rooms.
Our company now has a large number of experts, engineers and technicians. Our company focuses on the development of new product research, design with user-friendly and creative manifestation, and strict ISO9001:2000 quality management system for enterprise management.
With advanced technology, scientific management, strict quality guarantee system, warm and thoughtful services, flexible operating way, pragmatic spirit of enterprise and innovation, we strive for creating a new era in the construction industry and the internationalization of enterprise.
The sea is wide enough for the fish to spring the sky is spacious enough for the birds to fly! ...