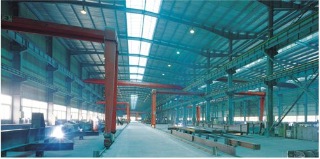 Hangzhou ZhongLianHeng Metal Engineering Co., Ltd. (Hereinafter called ZHM), established in 2010, is a Hangzhou-based company as the subsidiary of Hangzhou Zhongxin Steel Structure Group, specializing in the manufacture, supply and construction of (PEB) pre-engineered steel buildings and pre-fabricated steel buildings. ZHM pre-engineered buildings are custom-designed to meet exact requirements by using steel structures, plate welded H/I beams, roofing/cladding steel profiled sheets, Z and C sections/channels, single skin and insulated sandwich panels and other building accessories, such as doors, windows and louvers. ZHM has branch offices in Hangzhou, Shanghai, Ningbo, Beijing, Guangzhou and other places.
ZHM has our own PEB fabrication plant that spans over 200,000 square meters at Danwang Industrial Park, Xiaoshan, Hangzhou (approximately 5 kilometers from Hangzhou City Airport). Our plant deals with various pre-engineering fabrication processes, such as the manufacture of high tensile H/I beams, cold roll forming, roofing, cladding and other steel value addition processes. Our company specializes in turn-key projects for pre-fabricated engineered steel structures and buildings and offers a "ONE-STOP" solution through our multi-dimensional facilities, all under one roof. Our services range from conceptualizing, designing and manufacturing to final supply and erection. ZHM also trades in steel value added products and maintains a chain of agents throughout China. ZHM is also the authorized service provider for Baosteel.
ZHM is an established organization consisting of an ambitious team of individuals with excellent work ethic and inspirational vision. ZHM consists of approximately 300 employees, as engineers, operators, welders, fabricators, site supervisors and managers, and owns more than 100 units of construction and transportation equipment and machinery. All of ZHM machinery is world class meeting the highest standards of quality and efficiency. Presently, our production capacity is more than 250,000 tons of PEB products/structural steel a year. Our entire organization is dedicated to safety, quality and efficiency.
At ZHM, we have undertaken numerous projects, including warehouses, sheds, electric control rooms, industrial complexes, storage facilities and site offices for large and renowned organizations, such as Baosteel. We have supplied hundreds of relocatable steel cabins that are widely used as project offices, security guard huts, storage units, safety offices and temporary residences.
Also we have obtained the Quality Management System Certificate ISO9001:2008(Certificate Number:130035 by Sira Certification Service,England), Environment Management System Certificate ISO 14001:2004(Certificate Number: 130034 by Sira Certification Service,England) and Occupational Health & Safety Management System Certificate GB/T 28001-2011/OHSAS18001:2007(Certificate Number: 130033 by Sira Certification Service,England) ...