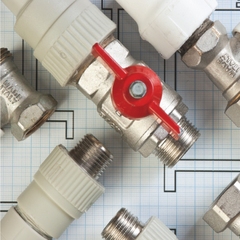 Berlyplast (Jin Baili) are a leading manufacturer and exporter in the pipe and plumbing industry. Our bestselling pipes and fittings include; PP-R for cold and hot water supply systems, PEX (PE-RT) for underground floor heating systems and PVC (CPVC) for water supply and drainage system fittings.
Our ability, however, is not limited to what you see illustrated here on our site. Our accomplished design and R&D technicians welcome custom product inquiries and work closely with our customers producing bespoke products.
Berlyplast products are tested beyond the standard that you require EN, DIN, ANSI, and ASTM and can be certified and/or tested by the testing facility of your choice such as BV / SGS or Intertek. We have approved ISO 9001--2000, other national certificates and we have the ability to meet the requirements of any country you desire.
We currently export our products to USA, Canada, Western & Eastern Europe, South America, Africa, Far East, Middle East and Australasia so we understand the needs of many markets.
If we can help you or you have any questions about our products or your own product development, please contact us. We look forward to working with you soon! ...