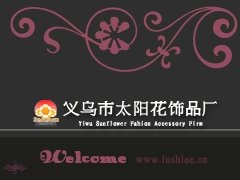 Yiwu Sunflower Fashion Accessories Firm is located in International Trade and World Famous Commodity City of Yiwu, China. We specialize in designing, manufacturing and marketing different kinds of fashion accessories. Our main products include Jewelry, Hair Accessories, Belts, Buckles, Bags, Bag Hangers, Caps/Hats, Promotional Gift Sets and Handcrafts. Meanwhile, we welcome your designs. Please feel free to email pictures or send samples to our masters who specialize in designing and making new products. We will effectively meet you needs by fulfilling all specifications in positive manner.
Our main markets are the USA and West and East Europe. We have more than 30 manufacturing partners, and we also have a factory of bead jewelry. With long term business development and facility expansion, we can provide our clients with comprehensive logistical support so as to enable rapid shipment of all orders. With strict and systematic QC measures and a perfect management mechanism, we always keep to delivery dates as set out in client contracts. Our customers therefore benefit from this, and receive their products at very good prices in the shortest time.
We warmly appreciate your detailed inquiry from at home and abroad, and we are looking forward to getting improvement with you in the near future. Especially, if you are interested in any of our products and service, please feel free to contact us for further details. Please be assured that we will serve you with priority and pleasure. ...