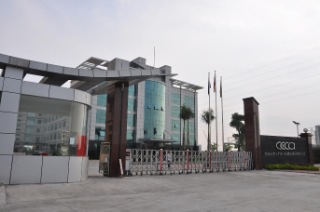 1. About OCCA
As the subsidiary of PLG(HK) Holding Limited, Guangzhou OCCA Chemical Limited is one of the top manufacturers of hair & skin care products in China, specially devote in developing professional hair beauty products for high grade salons. Different from the traditional hair care products, OCCA focus on the solutions to all kinds of hair problems. Moreover, OCCA has strong sense with the trend of international fashion and develop lots of styling and perm products to satisfy young and fashionable people. Wish years of experience in this market, OCCA has gain high reputation among customers at home and abroad due to good quality and excellent service. Consequently, OCCA has full confidence to grow stronger and stronger together with our faithful customers.
2. Brands of OCCA
We have three brands of professional hair care line:
SUIGO
BYCITY
BALCO
They are all the complete line including shampoo, hair conditioner, hair treatment, styling, perm and color. To suit different market, we design SUIGO as the top grade brand target at highest market. And BYCITY & BALCO target at middle to high market. This enables customers to choose the most suitable products easily according to their market.
3. Why work with OCCA?
As a self-research and promotion brand in China, we take serious attitude on the relationships with our customers all over the world.
1) We cooperate with famous suppliers of raw materials such as ISP, Cognis, Dow Coming Corporation, BASF, IFF etc. to ensure the products are free from harmful chemicals and environmentally friendly.
2) We set up strict quality control system in each link of manufacturing process. All the products must be tested qualified before shipment.
3) With strong ability in R&D, we have developed hundreds of different items each year. Ensure we are close to the leading trend in this market.
4) Sufficient manufacturing equipments and 5 semiautomatic producing lines, we reach a production capacity of 120000pcs/month. To guarantee the on time delivery.
4. To be a distributor of OCCA
At present, we already have distributors in USA, UK, New Zealand, India, Malaysia, etc, the feedback from these markets are very good that we plan to export to more other countries. Now we would like to develop at least one distributor in each country. Thus we have set up advanced promotional project, excellent education system and profitable distributing conditions especially for distributors. Our goal is to support you win the market and make OCCA products well-known all over the world.
5. OEM/ODM service from OCCA
Except for our brand products, we can also supply all kinds of skin & hair care products with your brands, just tell us your requirements and target prices, we will supply you the best performance products with most competitive prices. If you can imagine it, we can design it.
If you would like to receive samples or to set up a time to speak, please do not hesitate to contact me. We are looking for your inquiry. ...