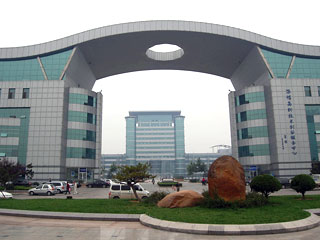 Shandong Saite New Material Co., Ltd. was founded in 2001. Our factory is located in Zibo City, Shandong Province, China. We are specialized in the production of yarn and a wide variety of finished products, including blankets, quilts and other bedding items. We also manufacture a range of special products like flame retardant textiles. Our annual manufacturing capacity includes 1,800 metric tonnes of yarn, 400,000pcs Raschel blankets and 300,000pcs assorted bedding sets. We currently export a wide range of our products to Japan, South Korea, Australia, Canada, the USA, Saudi Arabia and Bangladesh.
Shandong Saite New Material Co., Ltd. has been successful in the research and development of new types of fibre and end products. The development of traditional textile fibre products has led to the production of many new types of functional household textiles and sanitary products. In 2005, we successfully developed the world's first soybean fibre carpet, which was proved to be successful in the domestic and foreign markets.
We recently won a national patent for biodegradable corn and bamboo fibre sanitary napkins and baby diapers/nappies. These products offer numerous benefits to the mankind and the environment. This range of products gives the characteristics of being dry, comfortable and highly absorbent. Our products are antimicrobial, bacteriostasis and sterile. These qualities are the major contributors to the physical and mental health of women and children.
Meanwhile, the biodegradable materials used in the manufacture of these products play a key role in avoiding the second largest world pollution problem of plastic bags and disposable lunch boxes, known as "white pollution" in China.
Shandong Saite New Material Co., Ltd. has a number of leading brand names, including "Prote Flora" and "C&B". "Prote Flora" is the brand of a wide range of home textiles. "C&B" brand is registered for mothers' and children's healthcare products.
The implementation of new fire laws in China has led to the integration of upstream and downstream resources to develop and produce permanent flame-retardent products. Our company has set up a professional fire-retardent portal website at www.zuran.net. Please take the time to visit the website and learn more about this special range of textiles. Users of the search engine - Baidu can also get further information by entering key words, such as "flame retardant".
The brand - "Prote Flora" was registered in China and Shandong Saite New Material Co., Ltd. was authorized by Hong Kong Kebbel International Group Co., LTD in 2004 to be the manufacturer and agent of "Prote Flora" textile products in China. "Prote Flora" has become a well-known and best-selling brand in Chinese home textile market. As a company, we are committed to the further development and investment in technical innovation and research which will benefit our company, our business partners and the environment. We look forward to receiving your inquiries with a view to building a longstanding, healthy and profitable partnership for our mutual benefit.
Motto: "Honesty is the best policy" ...