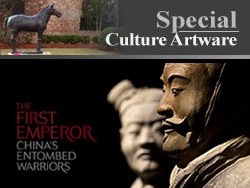 Shaanxi Langse Culture Spreading Company, Limited-established in 2003 and located in Xi'an City, the economic center among the five provinces of Northwest China-is an officially licensed import and export trading company specializing in trading cultural decor and gift products as well as in market expansion.
Our company does import and export business in special products of northwest in China. Our main items are: northwest special food, cultural gifts of all kinds, handcrafts, household items, home decorations, garden decorations, and more. We also offer customized service by providing our clients with products meeting their personal or special requirements. All our products have guaranteed high quality and competitive prices. We own a clay-statue plant in the hometown of the Terror Cotta Warriors and Horses that produces finely made, skillfully baked replica statues, of which Qin Terra Cotta Warriors and Horses are especially popular and sell well both domestically and internationally.
We also do business as an import and export agent, greatly meeting the business needs of all kinds of enterprises in our region. With our long-term efforts, we have built stable cooperating relationships with many manufacturers and clients. Our customers come from throughout the world, including North America, Europe, Australia, Southeast Asia, and other regions. We are seeking to have an overseas field office in the United States, aiming at offering closer service to many of our customers abroad.
Current export goods are -- Special products of northwest in China
1-Special artware
- Terra Cotta Warriors and Horses replica statues
- Black Pottery craft ornaments
- Northwest Folk crafts
- Shadow puppet
2- Special food
- Goji berries / Wolfberry
- Walnut
- Raisin
- Chinese gooseberry
- Cider
- Grenadine juice
3- Home Decor
- Home & Garden statues
- Carpet/ Rug
- Ceramic tableware
- Stainless steel dinnerware
- Glassware
- Towel cakes
With the principle of integrity being the enterprise's soul, quality being the enterprise's life, and service being the enterprise's faith, our company strives, through unceasing learning, to be an outstanding brand among Chinese companies doing business with foreign customers. We hope to build a cultural bridge and convenient business channel as we communicate and trade with overseas clients, selling more excellent Chinese products abroad and helping international customers better understand China and its distinctive goods. ...