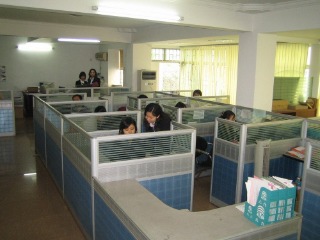 Foshan Yat Sing Office Supplies Co., Ltd., founded in 1990 in Foshan, China, specializes in modern office utilities and consumables. Since our establishment, we have been devoted to the sale of photocopiers, printers, FAX machines, computers and relevant supplies as well as the development of spare parts and consumables. Our company includes two sales offices and three factories with eight workshops located in Foshan, China. Through hard work, we have won the praise of numerous customers with our high quality products, services and friendly attitude.
Our factory initially focused on manufacturing upper fuser rollers, heater lamps and exposure lamps in the1980s. Keeping in line with consumer's demand and the high-speed growth of office machine products, our company is constantly researching and developing new products and services. In the 1990s, we developed web rollers, cleaning entrance seals, cleaning blades, pickup rollers and bushes, etc. In the 21st century, we have developed fuser film sleeves, heating elements, lower rollers and drum units which are very popular and continually bring us success. We will continue to assess market needs and make efforts to supply top quality products to our customers. We not only supply our self-made products and provide samples to our customers, but also wholesale all kinds of parts and consumables for printers and copiers, such as picker fingers, bearings, gears, thermistors, charge rollers, mag rollers, transfer blocks, heating elements, toner cartridge chips, fuser assemblies and more. We now have a comprehensive product line and are enhancing efficiency. We have set up a network of sales centers in cities cross China and overseas markets. Yat Sing actively participates in professional trade shows both at home and abroad every year. We have attended international shows held in Las Vegas and Nevada of the USA, Barcelona of Spain, Ho Chi Minh City of Vietnam, Moscow of Russia, Singapore, Sao Paulo of Brazil, Indonesia, etc. During these trade shows, our products have received high praise from many international professionals.
In the future, we will continue to develop our own Yat Sing-brand products. We welcome all customers to join our warm family to create mutual benefits and search for a bright future. Yat Sing also supplies services to build up customers' own brands. We believe that we can win together if we all make the efforts.
Please be sure to make payment to our account in case scammers.
BENEFICIARY:HONG KONG YAT SING DEVELOPMENT LTD
BANK :BANK OF CHINA (HONG KONG)LIMITED
Any changes of the account please contact us ...