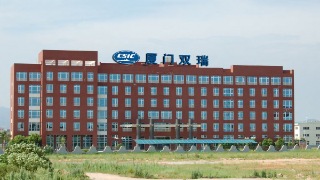 Xiamen Sunrui Ship Coating Limited Company is a subsidiary of China Shipbuilding Industry Corporation(SSE Stock Code:601989), one of the Top 500 Companies in global. Company has her headquarters in Xiamen, China, and a branch office in Foshan, Canton. SUNRUI operations cover research, development, production, and sales of various coating systems and products to protect and decorate surface for ships, steel construction and concrete construction.
50 years ago, a government-supported institute named Luoyang Ship Material Research Institute has been established for researching and developing warships materials including marine coatings. Afterwards, from this institute SUNRUI has inherited the technology and experience on anticorrosion & antifouling, meantime, based on State Key Laboratory for Marine Corrosion and Protection & Fujian Marine Corrosion Protection Engineering and Research Centre, SUNRUI has developed a series of coating products. The company, in 2008, set up high-tech and environment plant with an annual production capacity 30,000 tons for coatings and anticorrosive materials.
SUNRUI has achieved the ISO9001:2008(QMS), ISO14001:2004 (EMS) and OHSA18001:2007 accreditations in 2008. The company offers full products: shop primer, antifouling coatings, ballast tank coatings, epoxy anticorrosion coatings and industrial protective coatings, which effectively protect coastwise fishing boats as well as worldwide vessel and have been approved by CCS, LR, BV, NK and DNV.
Our technical service staff who mainly taken the inspection task have a high level of education and experience, and make sure that customers will get optimum preparation and paint system.
We are built up of dependable people who are committed to high performance coatings, we would like to build a close cooperation with customers from different oceans and offer the best protection for economy and military. ...