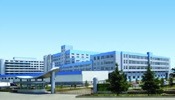 Guangzhou Chuyan Cosmetics Co., Ltd. was established in 2004, a professional manufacturer of hair care products. The main products include shampoo series, hair treatment series, hair color dye series, hair styling series, hair perm series and skin care series, and any other beauty salon cosmetics. A 10000 square-meter workshop and an independent warehouse and possess advanced technology for scientific exploration, analysis and test. We integrate ISO9001 advanced management and international equipment with production process together to manufacture products. Southeast Asia Chemical Laboratory has established long-term technical cooperation with our company. Our company is devoted to researching and designing hundreds of hair care products, such as hair shampoo, hair dye, hair colorant, hair perm and hair conditioners, and and so on. We also undertake processing trade (OEM) as our every customers' requirements. Our products are welcomed by customers at home and abroad.
The world will be more beautiful because of our efforts. Our service group are strong and professional with excellent marketing ability. To meet customers' various needs, we have established a research center for new products development and staff technicians with degrees of doctor, master and bachelor. Quality and customers are our priorities. We believe that your need is our pursuit and we would like to develop with you with our best products, service and management.
If you are interested in any of our products, please feel free to contact us for more information. ...