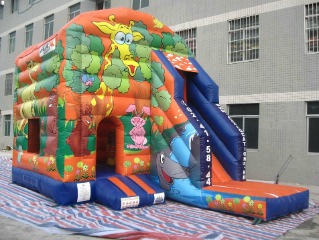 Guangzhou Sunyen Inflatables Co., Ltd. is a professional manufacturer which is able to produce inflatable tents, large inflatable water slides, inflatable slides, inflatable amusement parks, swimming pools, inflatable bouncers, castles, bouncers, inflatable water games, advertising inflatable products, water balls, roller balls, inflatable toys, inflatable models, inflatable fun cities and inflatable football fields. Here are the advantages of us as follows:
1. Sunyen has a team of professional designers who have been designing inflatable games for 10 years. We can design safe and gorgeous new games every month. Our games are makes according to EN14960 Standard. We aim to produce delicate and good-quality inflatable products and you will have no fear about doing inflatable business.
2. Sunyen adopts many new materials to meet our different clients' demands. We now have 8OZ, 15OZ, 18OZ and 20OZ as new materials which are light but strong for AD clients to deliver by air. They can be as strong as the traditional 0.55mm PVC tarpaulin but can cut lots of the costs, so they are loved by many clients.
3. Our clients are satisfied with the printing effect of Sunyen. We adopt the best digital printing skill to assure the quality of the games. The paint we use has passed SGS Test and is lead-free. This is very important for our products because most of our products are used by children. What is more, we use imported binding machines to cover the thin membrane on the printings so the printings will not fade and cannot be scraped off by naughty nails.
4. We adopt special double-needle sewing. The threads we use for all products are strong and have passed SGS Certificate. We have to make each game perfect because each client is important to us. Our clients and us are leaning together and survive in the mode of double-win for the long run. The most encouraging thing is that we have received many commendatory letters from our customers.
5. Sunyen is also famous for low error ratio. We have a very careful crew with members who are persistent in their positions to make the error ratio lower than 1%.
6. Sunyen owns very complete after-sales systems. We try our best to satisfy our clients when a problem comes out.
7. Sunyen will meet our clients' deliver needs by door-to-door service, C&F, FOB, air transportation and express service which is the first-grade service.
8. Sunyen aims to react promptly and serve our clients with good-quality service.
For a long time, our products have been exported to countries and regions in Europe, Oceania, Japan, Korea, North America, South America, the Middle East, and South Asia.
If high-quality products with reasonable prices and good services are what you are looking for, we are ready to fulfill your company's needs. If you are interested in any of our products, please feel free to visit our website or contact us for more information, we look forward to cooperating with you in the near future.
We have implemented a full set of quality control systems in order to produce high-quality products, on-time delivery and affordable price. We are confident in our capability to meet your expectations as your OEM supplier. ...