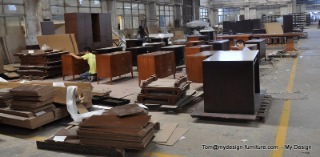 Our company has been specialized in furniture design, manufacture and sale since we were founded in 2005. As a professional furniture wholesaler and exporter, we are specially focusing on developing quality contemporary furniture and high end classic furniture. Bringing customers comfortable and colorful life through our elaborate furniture is our ultimate aim. Our factories are located in Guangdong, China and Guangdong is the largest furniture manufacturing center in the world.
We supply a full range of furniture, from classic to contemporary furniture. We are a furniture manufacturers' union. Our members produce all kinds of furniture and they are all leading furniture manufacturers. We are capable of supplying a full range of furniture, including hotel furniture, home furniture, office furniture, outdoor furniture and public furniture in different styles.
We supply quality furniture. We carefully select reputable manufacturers as our union members. Our business principle is "surviving with quality and developing with innovation". For each order, to guarantee better quality, we send our own professional QC members into our workshop to supervise every item of our orders.
We supply furniture at competitive prices. We select highly efficient manufacturers. All products go directly to you from our warehouse. To make business be profitable to you, we work hard and strictly control all costs. Therefore, we believe our prices are more competitive.
We can supply customized furniture. We can make furniture according to your own designs and requirements. We can work with your designers or introduce our design team to you.
We can supply great services. We take good care of you because clients are great treasure to us. All requirements from you are given our prompt attention. We promise to be at your service anytime at 24*365. We'll be glad to receive your comments and give you detailed information for the lines of your interest. ...